Baseball Team Finishes Season With Win
|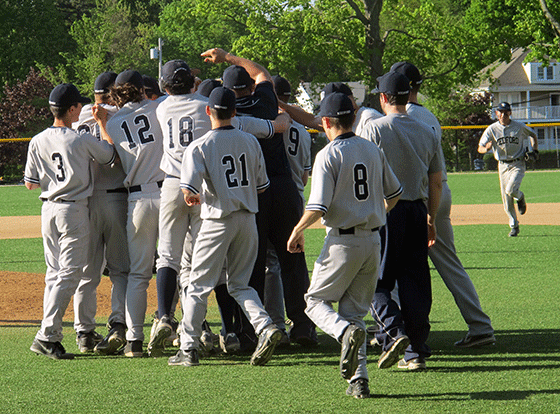 – Allison Goldsberry
On Tuesday afternoon the Medford High School varsity baseball team finished their regular season with a 2-1 road win over Lexington.
Chris Hayes pitched a complete game, striking out nine while allowing just six hits and no earned runs, according to assistant coach Ryan Kozul.
Senior captain Jake Porrazzo once again hit the go-ahead single to give Medford the 2-1 lead i the fifth inning. Ryan Covelle had the game-tying RBI single and scored the go-ahead run on Porrazzo's hit. Nick Rocco had a run scored while John Lavoie and Mike Egitto each added two hits.
The Mustangs won their last home game of the regular season with a 1-0 victory over Stoneham on Monday.
John Lavoie (pictured below) pitched a complete game one hit shutout to earn his fifth win of the season, said assistant coach Ryan Kozul.
The sole run of the game came in the sixth inning. Covelle walked with two outs. Lavoie singled, putting runners at the corners. Porrazzo stepped up the plate and singled to right field to give the Mustangs the lead.
Lavoie held onto his team's lead, shutting down Stoneham in the seventh to seal the win.
Medford is 17-3 overall and 7-1 in the Greater Boston League. Medford won the GBL title for the first time in over ten years. The Mustangs are league co-champs with Everett, who handed Medford their only GBL loss of the season.
Medford is awaiting word on the state tournament seedings, which will be available next Tuesday. Kozul said the team is guaranteed a top three seed in Division 1 North.