Help the Rotary Club Make 1,000 Cranes for Peace
|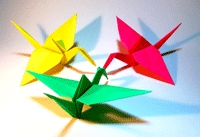 The Rotary Club of Medford, Medford Public Library and Medford Family Network are collaborating to make 1,000 origami paper cranes for peace in line with the 2012-13 Rotary International Theme "Peace through Service."
According to ancient Japanese legend, one who makes 1,000 cranes will be granted a wish by a crane. Help us achieve our wish for world peace and wellness! If we reach our goal, the cranes will be sent to the Children's Peace Monument in Hiroshima, Japan.
Supplies and instructions are available at the Medford Public Library and Medford Family Network if you would like to make a crane on your own. The library also has an instructional video on their website www.medfordlibrary.org.
There will be a volunteer crane maker at the Medford Public Library, 111 High Street, on Thursday nights in July and August. The Medford Historical Society, located at 10 Governors Avenue, will provide a "Make a Crane" during Circle the Square on Thursdays, June 20, July 18 and August 15.
Also, ook for a crane table at the Medford Family Network's summer concerts at Wright's Pond on July 9, 16, 23, 30; August 6, 13 and 20.
– Information from Mary Sbuttoni, Medford Rotary Club