Cradock Bridge Public Hearing Thursday, June 27th
|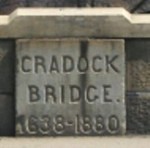 The Massachusetts Department of Transportation is holding a public hearing about the reconstruction of the historic Cradock Bridge in Medford Square.
The hearing is taking place on Thursday, June 27 at 7:00PM in the City Council Chambers at Medford City Hall.
According to information released by State Representative Paul Donato and State Senator Patricia Jehlen in March, the project will alleviate flooding issues for parts of West Medford, Winchester and East Arlington. The reconstruction includes the removal of concrete panels that now impede the flow of water, which will enlarge the hydraulic opening and reduce flooding upstream of the bridge.
Work is expected to begin in the Spring of 2014.
More information is available on the city website.
– InsideMedford.com