Public Meeting on Potential Everett Casino July 8th
|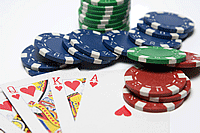 A public meeting is planned for Monday, July 8 to discuss potential issues should a casino be developed in Everett.
According to information released by Medford Mayor Michael McGlynn's office, members of the Wynn Development Group, the developers of the proposed casino, will meet with city officials, including the Mayor and City Council.
The meeting is open to all and is taking place at 11:30AM at Hyatt Place, 116 Riverside Avenue, Medford.
Residents can also express their concerns about a casino by emailing casinocomments@medford.org or casinoconcerns@medford.org.
Speaking at a press conference in June, Mayor McGlynn said a casino would cause "heartache" for Medford. The city's primary concerns are increased traffic and public safety. The Mayor cited studies that indicated thousands of additional car trips in the Wellington Glennwood neighborhood should a casino be developed nearby. He also said there could potentially be an increase in crime.
Voters in Everett recently approved the concept of a potential casino in their community. It is ultimately up to the state gaming commission to determine where the casinos will be located. East Boston is also interested in applying for a casino license and has advanced a plan.
– InsideMedford.com