City Council Summer Meeting Schedule; Meetings July 8th & 9th
|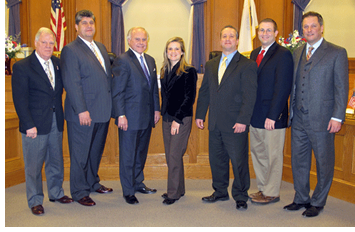 Updated 12:04PM Friday, July 5, 2013
The Medford City Council will meet at the following times over the summer, according to City Clerk Ed Finn:
– Tuesday, July 9, 2013 at 7:00 PM
– Tuesday, August 6, 2013 at 7:00 PM
– Tuesday, September 10, 2013 at 7:00 PM
– Tuesday, September 24, 2013 at 7:00 PM
– Tuesday, October 1, 2013 at 7:00 PM (Back to regular weekly schedule)
Council meetings are broadcast live on Channel 22 (Comcast customers) or Channel 43 (Verizon customers). All meetings take place in the Council Chambers at Medford City Hall.
The Council's Business Subcommittee is meeting on Monday, July 8 to discuss possible mitigation for the reconstruction of Cradock Bridge in Medford Square. The meeting is taking place at 5PM at the Chamber of Commerce, 1 Shipyard Way.
On Tuesday, July 9 the Council will consider a request from Mayor Michael McGlynn to establish a reserve police force.
"The establishment of a reserve police force will allow the City to appoint officers as reserves and toselect from that list officers for permanent appointment. In addition, it will facilitate the placement of prospective future candidates in training academies," wrote Mayor McGlynn.
Police Chief Leo Sacco will attend Tuesday's meeting to answer questions.
Tuesday's full agenda is available online.
– InsideMedford.com