City, Local Groups Join Forces to Remove Water Chestnuts from Mystic River
|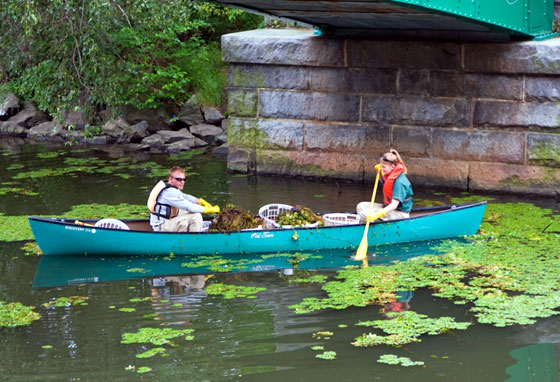 Volunteers pull water chestnut plants from the Mystic River last summer. Photo by Doug Shoop.
The city is partnering with local groups to help remove invasive water chestnuts from the Mystic River.
Medford and Somerville have both committed funding for this purpose; $10,000 and $5,000, respectively. In addition, Tufts University ($15,000) and Medford's three boat clubs ($11,000) have donated money to the Mystic River Watershed Association for water chestnut removal.
In addition, the Mystic River Watershed Association is holding two public water chestnut removal events on July 13 and August 3. More details are available on the MyRWA website.