Bike Fest at Farmers Market July 18th
|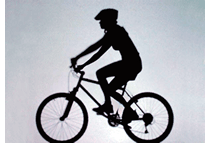 Join us from 3-7pm on July 18th for Bike Fest at the weekly Medford Farmers Market behind City Hall!
This is a great chance to get a free safety check for your bike, decorate your bike, win raffle prizes and enjoy locally grown, fresh produce and handcrafted products.
We will also be accepting bike donations to give to underprivileged communities through Roll It Forward, a program spearheaded by Boston's Mayor Menino and the Boston Public Health Commission that seeks to make cycling an accessible form of communication for low-income areas by collecting, repairing, and distributing unwanted bicycles. If you have a bike that's collecting dust or your kids have outgrown, bring it by Bike Fest behind City Hall on July 18th from 3-7pm! Also accepting bike parts, helmets and clothing.
– Submitted by Syrah McGivern