A jury is currently deliberating the fate of alleged gangster and FBI informant James "Whitey" Bulger, one of the region's most notorious criminals. It appears of all the things Bulger has been accused of, his most strenuous objection was against the allegation of being a snitch for the feds. Despite his denial of being an informant, Bulger and his lawyer have claimed Bulger had received immunity from the government.
Bulger's case is an extreme example of how a relationship between a criminal informant and the police can become corrupted. In another example, today the Middlesex and Essex County District Attorneys made an announcement about the conclusion of their investigation into the use of two informants by the Lowell Police Department.
It was bad information passed along by criminal informants that led to the imprisonment of four innocent men decades ago, one of them a Medford resident. These men were framed by the FBI for a crime they didn't commit, and the men spent a combined 109 years in prison, where two of them died before they were officially exonerated.
Medford resident Peter Limone, 75, Malden resident Joseph Salvati, and the families of Louis Greco and Henry Tameleo successfully sued the federal government and in 2007 were awarded the largest judgment for wrongful imprisonment in US history. Medford lawyer Victor Garo was instrumental in the case and spent more than thirty years working for Salvati pro bono.
Below is the story as told to InsideMedford.com by Garo in August of 2007: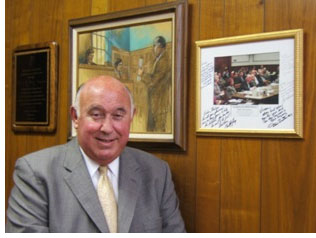 Attorney Victor Garo is pictured in his Medford office. To his right is a picture of one of the congressional hearings that investigated the FBI corruption that led to the imprisonment of innocent men, and behind Garo is a picture of him arguing in court on behalf of the client that introduced him to Joseph Salvati.
A 30-Year Fight Against Injustice
August 27, 2007
- Allison Goldsberry
Medford attorney Victor Garo first met Joseph Salvati on a raw, rainy day in the late 1970′s at a Framingham prison. Salvati and three other men had been in prison for nearly a decade after being framed by the FBI for a 1965 murder they did not commit.
After a three hour conversation, Garo, a white collar criminal defense lawyer with no background in organized crime, decided to take on the FBI and help Salvati get out of prison pro bono.
Garo took on the case for one reason- because he was confident the facts would set them free.
"We depend on the FBI to protect the rights of innocent people but here they're saying they can pick and choose who they want to help. Thank God that is not the law," said Garo.
The facts eventually did set them free- Salvati in 1997 after Governor Bill Weld commuted his sentence and Peter Limone, formerly of Medford, in 2001 after thousands of pages of documents came out detailing FBI cover-ups and corruption that led to the wrongful imprisonment of the two men along with Louis Greco and Henry Tameleo, who died in prison.
Garo's dedication to the case did not end there. The indefatigable attorney, along with Salvati, Limone, and Greco and Tameleos' families, went on to successfully sue the federal government and were recently awarded the largest judgment for wrongful imprisonment in US history- $101.7 million.
"It became a cause for me and I wasn't going to let the government beat me or keep hurting my client and his family…There are some things in life that are just worth fighting for and it's not just about the money," said Garo.
Garo's outlook was instilled in him by his hard-working parents that encouraged him to help people with his legal career. Garo's mother asked him to stay with the case until he walked Salvati out of prison, which is exactly what he did, on March 20, 1997.
On that day Garo, Salvati, Salvati's wife, and television reporter Dan Rea and his photographer Chuck Manning, laid roses on Garo's mother's grave, an emotional tribute to a woman that played a central role in Garo's life and who also became close to Salvati through hundreds of phone conversations.
That was 1997. Salvati, after serving thirty years in prison for a murder he did not commit, was a free man. Limone was still in prison. Greco and Tameleo had died in their prison cells.
Garo had not collected a dime from Salvati in twenty years and in fact returned a retainer the family gave him when he first took on the case after he found out it was borrowed money. Salvati had left behind a wife and four young children- 5, 9, 11, and 13- when he was wrongly imprisoned in 1968, and the family had little money to spare.
Garo encountered many obstacles in the twenty years it took him to free Salvati. With an unsympathetic public and crooked law enforcement officials and politicians, Garo knew he needed help. And that's where WBZ-TV reporter Dan Rea came in.
"I knew I needed publicity on this case because it was that dirty," said Garo.
Garo and Rea are both graduates of the Boston University School of Law. The law school Dean at the time, Ron Cass, brokered a meeting between the two in the early '90′s. Rea was just the kind of reporter they needed- someone with an appreciation for and understanding of the law that could explain the case to the public, and a real bulldog reporter not afraid to do some digging.
Rea, to say the least, was skeptical at first. But after listening to the facts of the case, he became interested enough to do his own research, eventually unearthing a buried Chelsea police report that spelled out what really happened the night of the murder, including identifying the real killers, that never came out during the trial. Rea also helped bring forward three key witnesses that led to the unraveling of the FBI's case against the innocent men.
"I became convinced fairly early on that these people didn't get a fair trial," said Rea.
Rea was the first and only reporter who covered the case for years. Rea's integrity was called into question, and some people even thought he was being paid off by the Mafia. The Boston Globe ran a story on Rea in 1994 entitled "Dan Rea's Mission Impossible: Has Dan Rea gone too Far?"
Rea and Garo became close friends, recently enjoying a baseball game together. Judge Nancy Gertner gave credit to the duo in her 235-page decision.
"It took nearly thirty years to uncover this injustice. It took the extraordinary efforts of a judge, a lawyer, even a reporter, to finally bring out the facts. Proof of innocence in this democracy should not depend upon efforts as gargantuan as these," wrote Gertner.
Though the judgment is the largest one in US history for wrongful imprisonment, it's difficult, arguably impossible, to put a price on lost freedom.
"They could never give me back what I lost. All the money in the world couldn't give me thirty-three years," said Limone.
"We waited forty years for something that should have never happened," said Salvati.