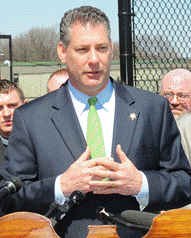 Surrounded by friends, family, community leaders and supporters, Peter Koutoujian today launched his grassroots campaign for Congress from the building where he attended middle school.
"I'm a kid from Waltham," said Koutoujian. "My dad was a city clerk here for 30 years. My mom dedicated her life to teaching. They showed me the value of public service. As a prosecutor, legislator, and sheriff, I'm proud to have fought for better nutritional standards in our schools and healthier environments in our workplaces. And I'm just as proud to have fought for Cheryl Darisse, whose sister was a victim of stalking that our justice system failed. These are the faces and stories that I'll bring with me to Congress; they're why public service is my life's work."
Immediately following the rally, Koutoujian and grassroots volunteers knocked on doors throughout Waltham, taking his strong, progressive message to residents of the 5th district. With dozens of supporters in attendance and plans to expand to seven other communities tomorrow, Koutoujian's grassroots campaign hit the ground running.
Longtime State Representative and former colleague Tom Stanley introduced Koutoujian, praising his leadership as chairman of the Financial Services and Public Health committees. "There's no one more capable, more qualified, or more dedicated to fighting for the 5th District than Peter Koutoujian. With more than 20 years of experience in public service, I'm confident he'll bring an unmatched dedication to the public interest with him to Congress."
- Submitted by the Koutoujian for Congress campaign. Photo by InsideMedford.com.