Many Discounted Kitty Connection Adoptions Available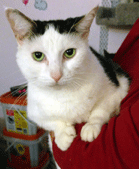 Nearly all of the cats in our adoption area currently have discounted adoption donations of $25-$50. So many cats need a deserving home so we can continue to help others.
Samantha
My name is Samantha and I'm an 8-year-old female who lost her home along with my littermates and owner. Darla is my sibling. We were out in a parking lot and the animal control officer called Kitty Connection to help. Thank goodness they were able to help us. I am very friendly and sweet. I'm shy when you first meet me but once I get to know you, I will run out for pats and love. You can even hold me in your arms. So many people think that 8 years makes us too old, but we have a lot of years yet and are in good health and always indoor cats. Our owner hated to lose us because we brought her so much love. We miss having a home and hope age won't make it too long of a wait.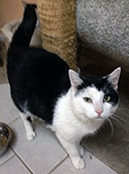 Darla
My name is Darla and I came in with 3 of my siblings. Kitty Connection got a call from Animal Control that four cats and their owner lost their home and were sitting in the parking lot during the heat wave. My owner found a place to stay but we could not go and she did not want to leave us behind. A volunteer with Kitty Connection came and took us to the vet, and we are now up for adoption. We are all black and white and 8 years old. There are three females and one male and we can be separated. Being 8 years old during kitten season is going to be hard for us to get a home… but we are hoping. I am extremely friendly and lovable and obviously get along great with other cats.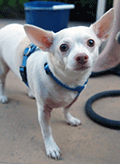 Leo
Watch my videos on the KC website! My name is Leo and I'm a 4-year-old Chihuahua. My owner surrendered me because she is having a baby any day. I was used to a lot of attention from her and she wasn't going to be able to give it to me so she gave me up to KC. Right now I am very scared and have been shaking in my feet not knowing what is going on. I stay close to everyone but am on the defense. A nice volunteer at KC took me to her home so that I can just calm down and realize I'm never going home again. I am friendly and get along with both cats and other dogs.
Honey

My name is Honey and a nice lady found me roaming the streets. I had scratches and looked very hungry. She called to see if anyone was looking for me and got me a quick check at Merwin Animal Clinic. With no one looking for me she called KC for help. I am a very sweet and gentle lab/pit mix girl. They say I'm about 5 years old and of course have had a few litters. I guess that is all they wanted from me. I am good with cats and will be tested with dogs. I am fine with children. I am in a temp foster home and will need a permanent foster home and more importantly a forever home.
About Kitty Connection
Kitty Connection is a no-kill, all volunteer rescue based in Medford and dedicated to helping animals in need. KC provides foster homes for them until they are adopted into loving, forever homes.
Cats/dogs are sometimes temporarily staying at foster homes away from the area.
For more information or to make an appointment to see the animals, call 781-393-9995 or email kc@kittyconnection.net.
For more animals or to see videos, check out http://www.KittyConnection.net!
- Information and photos from Kitty Connection