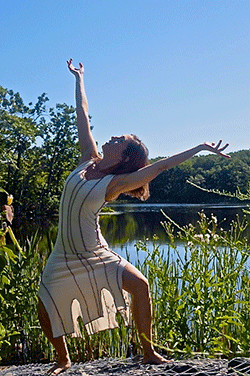 Two Roads Performance Projects presents Dance in the Fells: Wright's Pond, a festival of site-specific, outdoor dance at Wright's Pond on Elm Street in Medford, just minutes outside of Boston. On Saturday, October 12th, four innovative Boston-area dance companies will perform new dance works in four locations around beautiful Wright's Pond and the neighboring forest.
The October 12th event is free and open to the public, and features outdoor, site-specific choreography by Brian Crabtree and Dancers, Monkeyhouse, Kara Fili/Tara Weaver, and Alli Ross, as well as live music by local musicians and sculptures created over the course of the afternoon by artist Carolyn Lewenberg. Beautiful Wright's Pond Park, one of Medford's "hidden gems," will be open to the public for the event by special arrangement with the City of Medford, and everyone will have the opportunity to hike or stroll around the pond, view the gorgeous fall foliage, and be inspired by some the best contemporary dance as it unfolds along the beach and wooded trails. Rain date: Sunday, October 13th.
Dance in the Fells: Wright's Pond is the second installment of Dance in Fells, a series of outdoor dance events designed to make dance accessible to local audiences and to explore the relationship between dance and the wooded landscape of the Fells. In 2010, Two Roads produced the first Dance in the Fells, inviting six dance companies to perform throughout the Middlesex Fells Reservation. Over 400 people attended this free community event, enjoying the natural beauty, engaging in healthy exercise, and being moved, thrilled, and entertained by original dances that celebrated and explored the Fells as a remarkable local resource. In 2011, Dance in the Fells was recognized by the Massachusetts Cultural Council for making a unique contribution to artistic and community life in Medford, and was awarded a rare "Gold Star" for artistic merit and community engagement.
This year's choreographers are inspired by Wright's Pond both as a scenic landscape and as a beloved community space with a rich history. Wright's Pond was created as an auxiliary water source for Spot Pond in 1884, and served as the location of the fledgling Medford film industry from 1917-1928 before it became a community park, beach, and sanctuary for local wildlife. The Medford Historical Society is serving as a resource for the choreographers who are interested in Wright's Pond's place in Medford's history, as well as its future.
Wright's Pond is accessible by car via I-93 to exit 33 (Route 28) and by public transportation via the #100 bus from the Wellington Square Station (Orange line). Parking is available in the Wright's Pond parkling lot on Elm Street and the nearby Flynn Rink parking lot on the corner of Elm Street and Woodlawn Road.
For more information about the choreographers, the event, performance times, directions, parking, accessibility, and rain date, please go to tworoads.org, email tworoads.org@gmail.com, or find Dance in the Fells on Facebook.
Two Roads Performance Projects is located in Medford and was founded by Wanda Strukus and Kyna Hamill to support the creation of public art and site-specific and environmentally based performance. Collectively, Kyna and Wanda have produced, created, and facilitated over 50 theater, dance and movement-based productions. 
Dance in the Fells: Wrights Pond is supported in part by a grant from the Medford Arts Council, a local agency that is supported by the Massachusetts Cultural Council, a state agency. Dance in the Fells is also a participant in Arts Across Medford.
- Information from www.tworoads.org. Photo of choreographer Alli Ross by Sherry Darling.