Caraviello Announces City Council Candidacy
|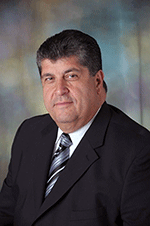 My name is Rick Caraviello and I am a candidate for re-election to the Medford City Council, I respectfully ask for your continued support. As lifelong residents my wife and I are proud to call Medford our home. My goal is to protect the quality of life we have enjoyed in our City, and to ensure that it will endure for future generations.
Recently, the Boston Globe and Boston Magazine have ranked Medford as one the top six best cities to live in Massachusetts. Medford has always had much to be proud of, ranging from our deep and storied history, our schools, athletics, community programs, care for our seniors and veterans, parks, historical sites, Tufts University, and our rich cultural and ethnic
diversity. These qualities have brought new families to Medford who are eager to help build a stronger community for their children. We live in a remarkably hard working, vibrant and resilient community and now is the time to for us to meet head on the challenges facing us.
Medford has the potential and ability to improve and prosper. It is time to make Medford Square and the Riverfront come alive with people and bustle with commerce. Medford Square now has a strong restaurant community that still has room to grow and attract people. I want to encourage and support small local businesses to ensure that they have the same advantages as large
businesses. We need to continue to help the existing businesses in the community grow and attract new businesses and jobs to Medford. Our riverfront is an under-utilized asset and we have not have not taken full advantage of this commercial and recreational resource.
Most of all, I want Medford to keep its unique qualities and sense of community.
I have worked with the School Committee to help keep our public school system on track and in a strong position to achieve excellence at every level. I have voted to provide funding to the new Science Laboratory at the High School along with the renovations to the Pool. Additionally I have voted to approve funds for the resurfacing of the turf and track at Hormel Stadium, made capital improvements at LoConte Rink, along with the upcoming renovation of the Girls Softball Field at Columbus Park. These improvements have given our community some of the finest athletic and recreational facilities in the State. Increased funding this year for maintenance will continue to help make our public schools some of the best in the area, to ensure we to continue to retain our students and attract new families to Medford.
Public safety has always been one of my top priorities. Additional police and fire fighters have been hired this year to ensure adequate staffing levels to meet the needs of Medford. The Fire Department has purchased two pieces of equipment, allowing the department it to continue to provide our residents with the best possible commitment to safety. Six new police cruisers have been purchased, and renovations to the police station and facilities for our female officers are ongoing as part of the upgrades to
the Police Department's capital equipment and facilities.
I have supported the construction of a new Department of Public Works facility which has been long overdue. Our committed city workers need to have a modern facility in order to keep pace with the demands placed upon them, trimming trees, fixing potholes, repairing sidewalks, street sweeping, park maintenance, plowing and planting of more trees. Several pieces of equipment are being purchased this summer to replace damaged and aging vehicles and equipment. I support the hiring of additional DPW workers to bring their staffing levels to where they needed.
As the Chairman of the Veterans Sub Committee I along with local tradesmen have implemented a program that helps repair homes of Medford Veterans free of charge. I have worked closely with the Veteran's Office at City Hall to support the rights of our Veterans.
For the past 21 months I have had the privilege of representing you as a City Councilor, and I am asking for your support of me. I will continue to improve city services while maintaining fiscal discipline in my attempt to make Medford truly shine once again. My professionalism, vision, maturity, and passion will be a continuing benefit to our City as we face the challenges confronting municipalities. I believe that my experience as a businessman and community leader will help to offset that void.
I have been involved in many Committee's and organizations within our community including:
– Sub Committee Chairman Veterans Affairs (current position)
– Sub Committee Chairman Public Safety (current position)
– President Medford Chamber of Commerce (2009-2010)
– Executive Director Medford Chamber Of Commerce (2010-2011)
– Distinguished President Medford Kiwanis (2003-2004) (2nd Term of President 2015)
– Chairman Children's Literacy Program which has given out over 35,000 books to 1st & 3rd grade Medford children (current position)
– President Medford Recreational Hockey Association (1992-1993)
City Council elections are important. The local level is where we, as residents, can be the most impactful. Voters determine how our tax dollars are spent, as well as what issues take priority. As your City Councilor I will continue to listen and to work for the issues that are most important to you.
On Tuesday, November 5, 2013 I respectfully ask for one of your seven votes.
Thank you,
Rick Caraviello, Medford City Councillor