Council to Consider Banning Hookah Bars, Review Period for Medicinal Marijuana Facilities, at Next Meeting
|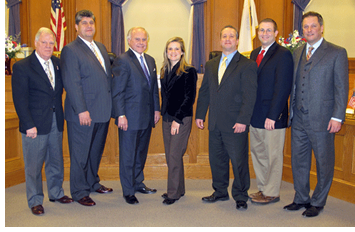 – Allison Goldsberry
When the Medford City Council holds its first September meeting councilors will consider two separate requests from Mayor Michael McGlynn to keep "hookahs" and medicinal marijuana establishments out of the city.
The Mayor is asking the Council to consider revising city ordinances to prohibit hookah bars, lounges, parlors, or any other places that plan to have hookahs from coming to Medford.
The new ordinance would define a hookah bar as "any facility or location whose business operation, whether as its primary use or as an ancillary use, is devoted to the on- premises smoking of tobacco or other substances through one or more pipes(commonly known as a hookah, waterpipe, shisha or narghile) designed with a tube passing through an urn of water that cools the smoke as it is drawn through it, including but not limited to establishments known variously as hookah bars, hookah lounges or hookah cafes."
The Mayor is also asking the Council to consider an amendment to city ordinances that enacts a six month moratorium on the establishment of medicinal marijuana facilities in Medford.
In his request, the Mayor said the moratorium would provide sufficient time for Medford to consider changing its zoning laws.
The Council meeting is taking place on Tuesday, September 10 at Medford City Hall at 7:00PM. It will be broadcast live on local television.
The entire Council agenda is available on the city website.