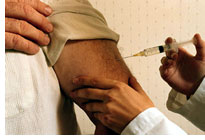 The Medford Board of Health is holding two flu clinics this fall.
On Wednesday, September 25 the Board of Health will be administering flu shots at the Medford Housing Authority, 121 Riverside Avenue, from 9AM-12PM.
The second flu clinic will be held on Wednesday, October 9 from 4PM-7PM at the Council Chambers in Medford City Hall.
The Board of Health is asking participants to bring their insurance information and to wear short sleeves.
- Information from Karen Rose, Medford Board of Health