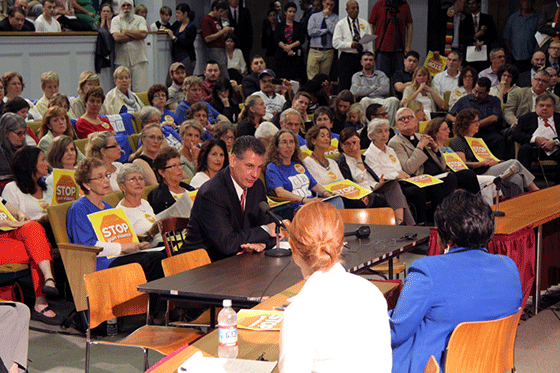 Middlesex Sheriff Peter J. Koutoujian testified before the Joint Committee on Public Safety and Homeland Security Friday, urging the panel to pursue a comprehensive approach to dealing with gun violence.
"It's unacceptable the second leading cause of death among those ages 1-19 in this country is firearms-related homicide. It's unacceptable an average of 32 Americans are murdered with guns every day," said Koutoujian. "We can and we must do more to address the problem of gun violence."
The committee held several forums around the state for residents, public safety and elected officials to provide their input as it prepares to recommend legislation to address gun violence. Friday's hearing lasted 10 hours.
In speaking to the joint committee, Koutoujian urged the panel to address the issue of high capacity magazines, to institute mandatory background checks for all gun purchases, and urge their colleagues to make a greater state investment in mental health services and early intervention.
Koutoujian noted less than half the children and adults with diagnosable mental health problems in the United States receive the treatment they need. He added that while a person with a mental health disorder is more likely to be the victim of a violent crime, the recent mass shootings in Newtown, Aurora and Tucson have all been carried out by individuals age 24, or younger – the age by which studies have shown three-quarters of mental illnesses appear.
- Submitted by Sheriff Koutoujian's office