On August 29, 2013, as part of "HKS Serves" — an annual day of community service orientation for incoming graduate students at Harvard's John F. Kennedy School of Government — 75 HKS graduate students joined 25 Medford High School athletes to perform exceptional volunteer work along the Mystic River at three sites: Clippership Drive, "Sleepy Hollow" park by the footbridge near Medford Square, and upriver at a dedicated knotweed removal site past the Veterans Memorial Park ballfields.
Work performed:
- Vista pruning to open up views of the Mystic River by removal of invasive plants
- Removal of invasive Japanese knotweed along the riverbank
- Painting over graffiti along the John D. Hand Memorial Footbridge
- Riverside clean-up by removal of trash and debris
- Painting concrete platform and new benches at the DCR's "Sleepy Hollow" area
In addition to the 75 Kennedy School graduate students, the effort boasted fabulous high school student volunteers, and our own city crews who became instrumental in the project's success.
The group tackled several projects along the Mystic River. Partners included: the City of Medford, Massachusetts Department of Conservation and Recreation, Friends of the Mystic River, and the Mystic River Watershed Association, in addition to volunteers from Medford's football and crew teams.
One group partnered with the Friends of the Mystic River to remove Japanese Knotweed, an invasive plant that resembles bamboo and grows aggressively along the riverbank. Meanwhile, just downstream, others painted benches and the pedestrian footbridge near Medford Center, and cleared underbrush to improve the view of the river from this park.
Along Clippership Drive students removed invasive plants and trimmed vegetation along the river. As the below image indicates, Medford's own Mayor McGlynn stopped by to thank the hardworking volunteers, whose work we hope you will take note of. The students enjoyed a pizza lunch at the Condon Band Shell while hearing about Medford's history from local historian Dee Morris.
Thanks to the participants from Harvard Kennedy School as well as all those who helped organize this successful river cleanup!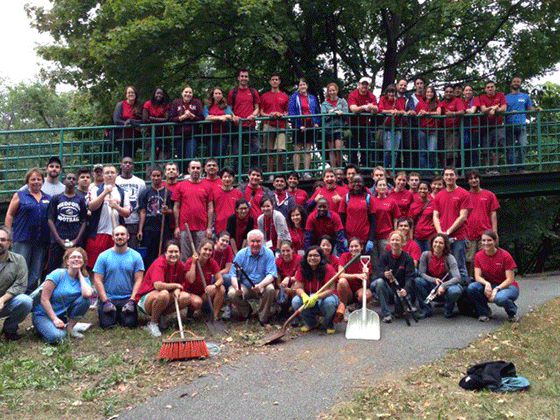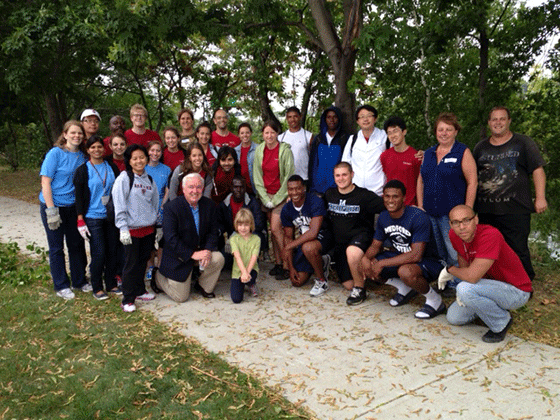 - Submitted by Friends of the Mystic River