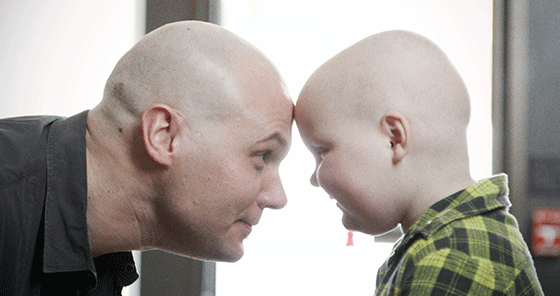 Medford's Alastair Moock will perform in a special show this weekend that was borne out of hospital visits with his daughter last year.
"The Singing Our Way Through" project was created by Moock last July when one of Alastair's twin five-year-old daughters was diagnosed with ALL (acute lymphoblastic leukemia).
"It felt like we were drowning," said Moock. "For the first week or so, my wife and I walked around the hospital in a trance. Then I went home and got my guitar."
Over the course of the next hospital-bound month, Moock and his daughter, Clio, sang and wrote songs
together in her room. "It was amazing how her mood brightened in those moments. The effect was
tangible."
Recognizing he had something special, Moock raised enough money to record an album. He partnered with renowned musicians and children, and "Singing Our Way Through: Songs for the World's Bravest Kids," was released in July.
On Saturday, Alastair will we be joined onstage by the album band, his daughters and Columbus Elementary School studetns Clio and Elsa, and The Jimmy Fund Chorus. The concert is taking place at 10:30AM at the Center for the Arts at the Armory, 191 Highland Avenue, Somerville.
Tickets are available online and there is a special $2 discount when entering the code ColumbusPTO when ordering tickets.
- Information from Columbus PTO and www.singingourwaythrough.com