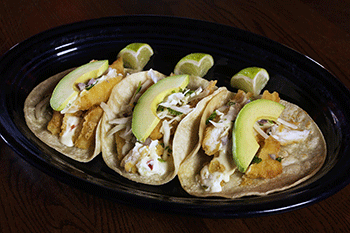 Margaritas Mexican Restaurant has introduced a revamped menu that emphasizes its position as a popular Mexican restaurant that connects guests with Mexican culture, delicious food and good times in the heart of the community.
The new menu design reflects the restaurant's core pillars – Mexican artwork, classic fare and a fun atmosphere. It references traditional handmade furniture and décor that comes straight from Mexico as well as the restaurant's commitment to creating a fun, lively atmosphere for its guests. The company is well known for innovative events such as the Full Moon Margarita Madness, Noche Mexicana fundraisers and Cinco de Mayo celebrations.
Margaritas has added seven mouth-watering new dishes including the popular Ahi Tuna Salad and Habanero Lime Salmon. Many of the new items were first introduced as limited-time only options but were brought on as a permanent menu items after much fanfare from guests.
The look and feel of the new menu now resembles the colorful artwork guests would see in Mexico – as well as on the walls of Margaritas. The menu is also restructured in a way that makes it easier for guests to view different food categories. Other changes include:
- Expanded Taco Section – Now offering more than 13 different taco options including Authentic Street Tacos and four different kinds of Fish Tacos.
- Lighter Fare – Great new choices for lighter dining including more salad options and an expanded a la carte section.
- Legendary Fajitas – Their most popular entrée gets some new sizzle with more options including fan favorites, the Guadalajara Steak and Adobo Chicken.
"For more than 25 years, Margaritas has been the destination for guests looking for great food with fun times in an authentic Mexican atmosphere," said CEO and Founder John Pelletier. "This new menu truly mirrors our overall brand personality, from our beautiful handmade décor that comes straight from Mexico to our ever-evolving cuisine that is inspired directly from our travels."
In addition to its continuous menu innovation, Margaritas has been a pioneer in community involvement among restaurant chains. The company has introduced Mexican culture to thousands of children by hosting demonstrations from visiting artists from Mexico and inviting local schools and other organizations to take field trips to the restaurants.
Since its founding in 1986, Margaritas has grown to 24 locations in Connecticut, Maine, Massachusetts, New Hampshire and Pennsylvania. Offering authentic, made-from-scratch Mexican cuisine, each Margaritas restaurant is a gallery of hand-crafted Mexican artwork. To ensure each restaurant reflects present-day culture with a respect for history, John Pelletier, along with his brother and co-founder Dave, travels to working artist and manufacturing towns in Mexico to select hundreds of paintings, handmade tiles, pottery and carved tables and chairs.
For more information about Margaritas Mexican Restaurant, visit www.margs.com.
Margaritas has several locations, including Station Landing in Medford.
- Information from Margaritas