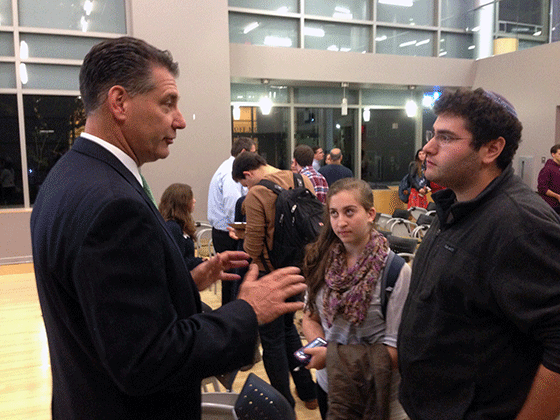 Peter Koutoujian on Tuesday addressed the Tufts University Democrats, speaking to a standing-room only crowd of students interested in hearing about his record of public service.
"It's great to be here at Tufts," said Koutoujian. "I remember when I was in your seats, thinking the world was mine for the taking. Then I graduated, and every paycheck I earned seemed to go straight to paying off my student loans. Soon the debt was piling up and I was suffocating. I'm running for Congress to make sure that doesn't happen to you, that it doesn't happen to your siblings, and that it doesn't happen to my kids when they go to school. Two weeks ago I put forward a plan to change that, and I'm asking for your vote so I get the chance to act on it."
Koutoujian has made supporting middle class issues a priority in his campaign. In addition to curbing the costs of higher education—a need he addressed during a policy round table two weeks ago—he has pledged to stand strong on women's rights and stand up against gun violence in Congress.
Megan Zupon, a Tufts student, attended the event, saying, "Peter's got a mile-long track record of standing strong on the issues I care about. From protecting a woman's right to choose to guaranteeing equal pay for equal work to standing up to the NRA to helping tackle student debt, I know he'll be a fierce advocate for me and my classmates in Congress."
- Information and photo from the Koutoujian for Congress campaign