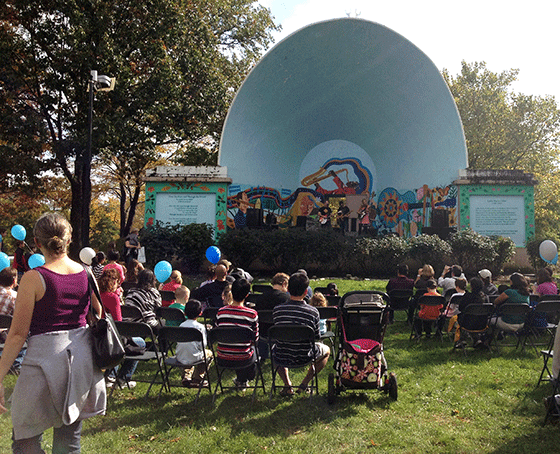 The third-annual month-long Arts Across Medford festival will kick-off an exciting month of events with the Mystic River Celebration at the Condon Shell in Medford on Saturday, October 5 from 12-4 pm. This lively program attended by over 1,000 people each year is the first event in a series of over 15 arts and cultural programs throughout October held at various locations around the city, all in celebration of Medford's thriving arts and cultural scene. Dance, music, theater, storytelling, poetry, painting, and historic talks are just some of the many art forms presented at events dappling the calendar for the month of October.
The first event of the month, the Mystic River Celebration, is a popular afternoon festival that celebrates the Mystic River, the City of Medford, and our city's unique community of artists, arts and cultural organizations, businesses, and restaurants. The event features live music, dancing, arts vendors, food, organization and business booths, and creative activities for all ages.
The Condon Band Shell (located just off of Route 16 in Medford) will feature exciting performances by the soulful Medford native Philip Hamilton, Arlington-based The Larry Terry Project, popular Medford singer-songwriter Susan Cattaneo, and the harmonizing classic rock tunes of Out with the Cat. Festival attendees can choose from delicious food vendors including Depot Square Grille, Tenoch, CB Scoops, Wicked Good Treats, and other local restaurants, while browsing a unique array of jewelry, paintings, bags, and clothing made by local artist vendors.
Somerville artist Hannah Verlin's art installation, "Letters to Medford", will illustrate a thought-provoking letter written by Reverend Charles Brooks in 1855, addressed to future Medford in 2055. Along the edges of the festival site, artists can be found producing on-site paintings of the beautiful Condon Shell, Mystic River, and other surrounding autumn scenery. These paintings will be presented at an exhibit opening on Sunday, October 13 at Mystic Coffee Roaster and continuing throughout the month.
The Mystic River Celebration provides individuals of all ages an opportunity to get outdoors, enjoy the beautiful October weather, appreciate the Mystic River, and learn about the many different artists, cultural organizations and local businesses in our community. The Condon Shell is located at 2501 Mystic Valley Parkway. Parking is available at the Condon Shell as well as along Winthrop Street. However, parking is limited, so participants are encouraged to walk or ride their bike to the event. In the case of rain, the event will be held on Sunday, October 6 from 12-4pm.
Produced by the Coalition for Arts, Culture, and a Healthy Economy (CACHE in Medford), the month-long Arts Across Medford festival and the one-day Mystic River Celebration are sponsored by Brookline Bank, the Medford Arts Council, Tufts University, and Medford Health Matters. For more information about the line-up of events or about the Mystic River Celebration on October 5, visit www.medfordfestival.org or visit CACHE in Medford on Facebook or Twitter.
- Submitted by Allison Fiske