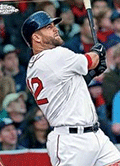 Hirsute Red Sox player Mike Napoli and his playoff beard will be in Medford on Monday.
According to information posted on Facebook, Napoli will be at Modell's Sporting Goods from 6:30-7:30PM.
His appearance is part of the promotion of Modell's #GetBeard playoff T-shirts.
Modell's said passes will be distributed thirty minutes prior to Napoli's appearance to guarantee an autograph. He won't be signing personal items and also won't be posing for photographs.
Modell's is located at 640 Fellsway in Medford.
- InsideMedford.com