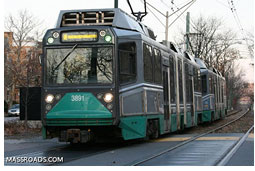 Photo by Alexander Svirsky, MassRoads.com.
- Allison Goldsberry
Last week the MassDOT Board unanimously approved a $393 million Intergovernmental Service Agreement (ISA) with the MBTA that will construct three new stations and bring the Green Line from Cambridge to Somerville.
This phase of the Green Line extension is anticipated to be complete and ready for service by "early to mid-2017," according to project officials. The phase will also include utility re-locations on local bridges in preparation of the fourth phase, which is extending the Green Line to College Avenue in Medford.
In other project news, the next Green Line Extension (GLX) Design Working Group (DWG) meeting will be Thursday, October 3, from 6:00 pm to 7:30pm at 51 Winthrop Street in Medford.
According to information released by the Green Line Extension Project Team, the meeting will provide an update on the project and will also cover the roles and responsibilities of the group as the Green Line extension moves from the design to the construction phase.
The group will also plan for a series of neighborhood meetings in the fall that will focus on noise walls along the project corridor.
All meetings of the Design Working Group are open to the public.