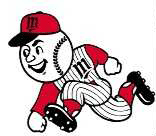 October 6, October 20:
- 10U, 9-10AM, Tufts Park, Medford
- 11U and 12U, 10-11AM, Tufts Park, Medford
- 13U and 14U, 11:30AM-12:45PM, Playstead Park, Medford
- 15U, 12:45-2:00PM, Playstead Park, Medford
- 16U-18U, TBA
Registration and liability forms are required to be filled out before participating in the tryouts. Both forms can be found by visiting the program's website, www.middlesexreds.com, and clicking on the Handouts link. Both forms and a $10 tryout fee must accompany each player and parent before participating.
For the latest information about our program and the upcoming tryouts we encourage you to visit our website, www.middlesexreds.com, regularly. You can learn more about the Reds AAU Baseball Program on the site by checking out our Middlesex Reds Program Information Page and read about our administrators and coaches by checking out their Bios on the Contact Info page.
We also invite you to join our community by visiting our Middlesex Reds Baseball Facebook page. When you log into Facebook, check us out and Like us today to receive up to the minute information on the program!
For more detailed information on the program or the tryouts contact: Middlesex Reds President Joe Chiodo, at themiddlesexreds@yahoo.com, 617-875-8088 or Reds 14U Coach & Medford High School Assistant Baseball Coach, Orazio Azzarello at azz1111@yahoo.com, 617-839-6843.
- Submitted by Orazio Azzarello