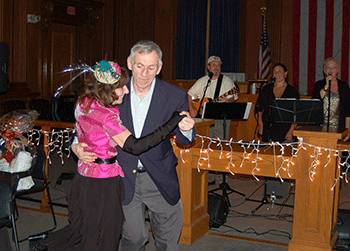 The Friends of the Medford Family Network are preparing to once again transform the Council Chambers at Medford City Hall into a spectacular, sparkling setting for their largest annual fundraiser. "A Night of 10,000 Lights" is an adults-only night out that will feature tastings from top Medford restaurants, live music, a silent auction, a raffle and more on Saturday, November 2. The proceeds will benefit the Medford Family Network of the Medford Public Schools, which provides support services to more than 1500 local families each year.
Because 2013 is an election year, in attendance will be many Medford politicians, including Mayor McGlynn and members of the school committee and city council. It promises to be a fantastic night to mingle with your neighbors and meet new friends. Longtime supporter of the MFN and general manager of Yoki Japanese Restaurant and Sushi Bar, Phong Nguyen, will also be honored. For the past two years Yoki has hosted a golf tournament with all proceeds going to the MFN.
Tickets for the event are $25 in advance and $30 at the door. Every attendee will receive a "twinkle" gift bag filled with items provided by local sponsors. There will also be a cash bar and live music by "Out with the Cat" and Medford parents Rick McLaughlin and Raleigh Green. The night is sponsored by East Cambridge Bank, a gold sponsor for the third year in a row. The featured restaurants providing tastings will include Bertucci's, Blue Fuji, Friendly's, Harrow's, Margaritas, Not Your Average Joe's, Salvatore's, Tenoch, and Yoki.
All of the proceeds from "A Night of 10,000 Lights" go to support the Medford Family Network. For 20 years MFN has provided a variety of services for families, including "play and learn" groups for parents and young children during the school year, new moms' support groups, spring and summertime outdoor play groups, parenting workshops, and a summer concert series at Wright's Pond. All of the MFN's services are offered at no cost to families to ensure equal opportunities for all Medford residents.
"A Night of 10,000 Lights" is returning to Medford City Hall for the second consecutive year after the terrific response from supporters who attended the 2012 event. Holding the fundraiser in the Council Chambers at Medford City Hall offers a fun, historic location with ample parking and further helps to demonstrate Medford's commitment to the MFN's work. At last year's event, the Friends of the Medford Family Network exceeded its goal of raising $12,000, a number they hope to top in 2013.
Tickets can be purchased online at medfordfamilies.org, at the MFN offices located at Medford High School, and at Bestsellers Café in Medford Square. Auction items and raffle baskets will also be itemized and open for bidding at the Friends of the Medford Family Network's website, medfordfamilies.org.
- Submitted by the Friends of the Medford Family Network