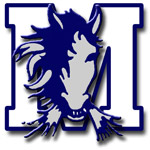 - Allison Goldsberry
The Medford High School varsity golf team secured the Greater Boston League title with a win over Everett last week.
Medford is 7-1 in the GBL and 8-5 overall, according to Head Coach Ray Dyer. This is the fourth title in five years for the Mustangs. The team has now qualified for the state sectionals at Bradford Country Club in Haverhill on October 21.
The team was led by co-captains Connor Lonergan and Adam Gabaree. Dom Ramasci, DJ Galvin, and Mike Bianco also had "tremendous seasons," said Coach Dyer. The Mustangs also had "excellent contributions" from juniors Devin Newell, Steven Silvio, Ryan Quinlan, and Ryan Hickey, as well as promising freshman Connor Fraser.
Coach Ray Dyer, in his tenth year, is very excited about the team's accomplishment.
"To win the league is always a nice accomplishment but to have the opportunity to play against the best teams in Massachussetts is very exciting," said Dyer. "I know the kids will be ready; they have continued what is a great tradition here at Medford High."