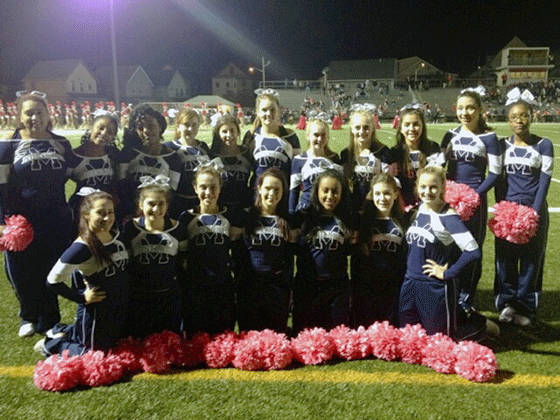 The Medford High School Football Cheerleaders continue their commitment to Breast Cancer Awareness by using hot pink poms for games in the month of October.
"Breast Cancer Awareness is one of the high school cheerleaders long standing charities. Unfortunately, a number of cheer mom's have been touched by breast cancer and therefore we have supported this cause for the past 10 years," said first year head coach and former MHS cheerleader Anne Raimo.
In addition to walking and raising donations for the American Cancer Society's Annual Breast Cancer Walk in Boston, past teams have worn pink hairbows or pink ribbons on their uniforms.
"After the team's annual car wash held in June, I noticed in a cheer catalog the pink poms, (a percentage of the fee is returned to the American Cancer Society's Breast Cancer Fund) and thought it would be a great way to show our support," said Raimo.
The cheering team wore "Boston Strong" hairbows for the month of September.
"Part of the cheering contract is to support the community and non profit causes. The bows were made by a friend of ours, who sent all the profits to the OneFund. We believe that supporting causes such as these make for a more well rounded student," said Coach Raimo.
- Information and photo from Lisa Evangelista