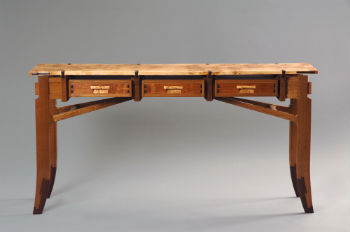 Medford artist John Everdell is featured in the Fuller Craft Museum's exhibition "Made in Massachusetts: Studio Furniture of the Bay State." The museum, located in Brockton, is running the exhibition from October 12, 2013 through February 9, 2014.
"After majoring in history with a minor in theater practicum at the University of Denver, John Everdell tried a variety of occupations as a young man. He experimented with careers in numerous fields, including studio special effects, auto racing, and ceramics, before discovering wood. In 1979, he earned his master's degree from Boston University's Program in Artisanry, where he honed his skills with Jere Osgood and Alphonse Mattia.
Upon receiving his degree, Everdell joined Cambridgeport Cooperative Workshops, informally called Emily Street. He has been mistakenly referred to as an architect on occasion, as the result of his many talents in interior woodwork as well as in furniture making. His special inspiration and focus in furniture has been the arts and crafts movement, an international phenomenon inspired by British theorist William Morris and others, and influential from the late nineteenth century into the early twentieth century. Morris advocated a return to traditional craftsmanship, using simple forms and straightforward construction, as opposed to the elaborate, heavily ornamented, and often machine-produced rococo and other revival styles of the Victorian period.
Everdell's Pecky English Oak Hall Table is a prime contemporary example of the simplified forms of Morris's theory, notable for its construction of contrasting woods and the careful detailing of its surfaces. ("Pecky" English oak is a term used to describe old oak with wormholes.) The exposed joinery also references the "honest" construction of furniture from the arts and crafts movement."
- Information from the Fuller Craft Museum