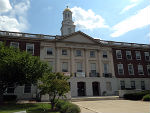 The Medford Democratic Ward and City Committee is a forum for candidates running for City Council.
The City Council candidate forum will be held on Wednesday, October 23 from 7-10PM at Medford City Hall.
Six of the seven current City Councilors are running for re-election: Breanna Lungo-Koehn, Paul Camuso, Rick Caraviello, Fred Dello Russo, Jr., Mike Marks, and Robert Penta. Several newcomers are also running: Robert Cappucci, Mark Crowley, Robert FitzPatrick, Adam Knight, Jeanne Martin, Jim Morse, and Neil Osborne.
All candidates have been invited. Both forums are free and open to the public and will be broadcast live on local TV (Channel 22 for Comcast subscribers and Channel 43 for Verizon subscribers).
- Information from Medford Democratic Ward and City Committee