Brewski, Baby Girl Looking for Homes
|
Brewski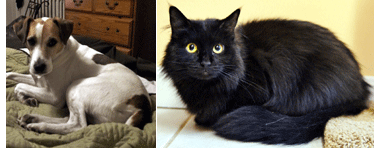 Watch my videos on the Kitty Connection website! My name is Brewski and I'm a 7-year-old, 28 lb., Jack Russell/Beagle mix, neutered male dog. I love older children and get along with other dogs. I would not do well with cats. I'm very friendly and love to play, and I hope it won't be long before I have a home of my own. Just look at this face – a handsome, lovable keeper!
Adoption Donation: $200
Baby Girl
Watch my video on the KC website! My name is Baby Girl and I am a 1- to 2-year-old long-furred, all black very beautiful girl! I love to play but please, don't play too rough with me because I can respond in kind. Although I'm extremely friendly, I'd prefer a quieter home that is not overly crazy. I get along with dogs when introduced properly and most cats. My ideal home would have a dog and/or 1 cat and older children… small children may be too active for my tastes; or perhaps an older couple who are home a lot. Other than that, I am sweet and pretty and enjoy getting petted. Come and meet me soon. Maybe we can chill out together.
About Kitty Connection
Kitty Connection is a no-kill, all volunteer rescue based in Medford and dedicated to helping animals in need. KC provides foster homes for them until they are adopted into loving, forever homes.
Cats/dogs are sometimes temporarily staying at foster homes away from the area.
For more information or to make an appointment to see the animals, call 781-393-9995 or email kc@kittyconnection.net.
For more animals or to see videos, check out http://www.KittyConnection.net!
– Information and photos from Kitty Connection