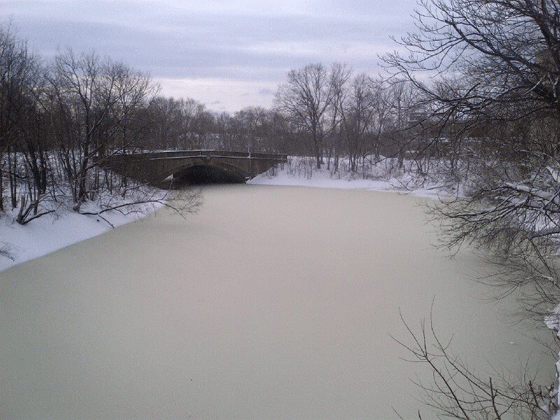 The Mystic River in Medford Square following a storm last February. Photo courtesy Medford Historical Society.
- Allison Goldsberry
Medford could see up to ten inches of snow according to the National Weather Service.
Snow is forecast to begin falling around 4PM on Saturday. The heaviest snow will fall Saturday night, with five to nine inches expected, according to the NWS.
Snow and sleet will continue into Sunday, with precipitation expected to stop in the morning. A Winter Storm Warning, Hazardous Weather Outlook, and Coastal Flood Advisory have been issued. The Winter Storm Warning is in effect from 1PM Saturday for twenty-four hours while the flood advisory is in effect from Sunday morning through midnight.
A snow emergency has been declared in Medford as of 6PM on Saturday until further notice. There is no parking on main roads and parking is limited to the odd side only on side streets during snow emergencies.