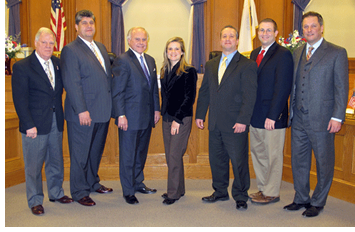 On Tuesday, December 17 the Medford City Council will hold two Committee of the Whole meetings prior to the regular 7:00PM meeting.
At 6:00PM the Council will meet to discuss potential improvements to McNally Park. Last week the Council received a request from Mayor Michael McGlynn to accept a $400,000 state grant for the reconstruction of the park in addition to a request to approve a $625,000 loan order for work on the park. Mayor McGlynn, Budget Director Stephanie Muccini Burke, and Community Development Director Lauren DiLorenzo have been asked to attend the meeting.
At 6:30PM the Council will meet with the new owners of the Fellsway Plaza to discuss future plans for the property. Paul Brandes and Karen Johnson of Charter Realty and Development Corp. have been invited to attend the meeting.
Agendas for each meeting are available on the city website.
All meetings are taking place at Medford City Hall. The regular 7:00PM meeting is broadcast live on local access.
- InsideMedford.com