Superwoman, Layla Looking for Homes
|
Superwoman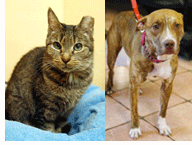 Watch my video on the KC website! My name is Superwoman and I'm a 7 to 8 year old female cat. Originally, I came from a hoarding situation to Kitty Connection to find a home. I was adopted out but sadly, my owner had to move away so I've lost my home. I'm not a lap cat but I do enjoy playing with the volunteers here at KC. I love to be petted and stroked and…I have the most beautiful bluish-green eyes. I get along with other cats so, if you have a cat that needs a companion, I'd be perfect! OR, if YOU need a buddy to hang with you on the couch, I'd be perfect there, too!
Layla
My name is Layla and I'm a 1-year-old lab pit bull mix dog. I was removed from a home along with my pups because of a poor environment. I was such a great dog that networking was done to get me in to a rescue organization so that I could find a nice loving home. I am a very friendly dog who is good with children, cats and other dogs. I am still a puppy so I love to play. I'm a perfect size – not too small and not too big. I weigh about 40 lbs. I love to go on walks and can handle being in a crate. I need someone who has time to give me some training so that I can continue to learn my basic commands. I hope it won't be long before I have a home of my own.
Adoption Donation: $350
About Kitty Connection
Kitty Connection is a no-kill, all volunteer rescue based in Medford and dedicated to helping animals in need. KC provides foster homes for them until they are adopted into loving, forever homes.
Cats/dogs are sometimes temporarily staying at foster homes away from the area.
For more information or to make an appointment to see the animals, call 781-393-9995 or email kc@kittyconnection.net.
For more animals or to see videos, check out http://www.KittyConnection.net!
– Information and photos from Kitty Connection