Coughlin Leads Mustang Track Team Against MC
|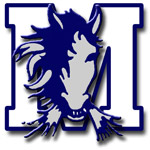 – Allison Goldsberry
On Monday afternoon Medford High School senior Patrick Coughlin led his team in a strong performance against Malden Catholic.
Coughlin had an "outstanding night," said Coach Tom Lynch, winning all three of his varsity events. Coughlin won the high jump with a 5'4? leap, took first in the hurdles in 8.97, and took the long jump with a mark of 17'8?.
Massimo Cugno earned first place in the 55 meter dash in 7.3 seconds while Jabahary Jissomme took third place in the dash in 7.5 seconds. Jissomme also earned second place in the long jump.
Marcus Howard placed third in the shot put with a 31'11? toss. Ethan Greenidge and Ryan Colbert competed in the 300 meter race, with Greenidge finishing in second with a time of 40.29 and Colbert finishing in 45.4. Shawn Napier placed third in the 600 meter race in a time of 1:37.
Medford finished with 29 points to MC's 41.