Murray, Shelby Looking for Homes
|
Murray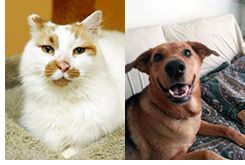 My name is Murray and I am a very friendly and lovable, 6-7 year old boy. I am a super great cat and I get along with other cats. I am a big boy with super soft, medium-long fur and I love to be petted and stroked. I had a home once (because I am friendly). I was picked up off the streets where I roamed around, looking for food. I want that warmth of a home again…could that home be yours?
Shelby
My name is Shelby and I'm a female dog about 4 to 5 years old. I was surrendered by my only owner due to financial reasons. I have some fear issues, especially with men, but I've gotten a lot better since I've been with a foster. All it takes is to let people know to ignore me for the first minute, let me relax and then I'm fine. Give me a treat and we'll be friends for life! I am very obedient, very smart and know many tricks and commands. I love a belly rub, playing ball and am good on a leash. I do well in a home with another dog, no cats…and adults only, please.
About Kitty Connection
Kitty Connection is a no-kill, all volunteer rescue based in Medford and dedicated to helping animals in need. KC provides foster homes for them until they are adopted into loving, forever homes.
Cats/dogs are sometimes temporarily staying at foster homes away from the area.
For more information or to make an appointment to see the animals, call 781-393-9995 or email kc@kittyconnection.net.
For more animals or to see videos, check out http://www.KittyConnection.net!
– Information and photos from Kitty Connection