Recent MHS Grads Speak to Students About College Life
|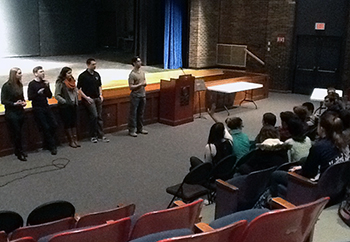 In January several recent alums of Medford High School that are currently attending college volunteered their time to speak to MHS students about their college experience.
The alumni were organized by Medford High School Alumni Association members Dan Costello and David Mckillop. Alumni discussed numerous topics including the Common Application, applying for scholarships, and college academics. The young alumni were also able to offer a different perspective on college life and answered a variety of questions. Their continued support of MHS is greatly appreciated by the faculty and staff.
Thank you to the following volunteers for participating:
David Mckillop '11
Dan Costello '12
Dan Begin '12
Marcello Cugno '11
Katie Bowler '12
Becky Melo '12
Jimmy Phillion '13
Cassie Ferragamo '10
Christian Heallion '13
Sean Connor '12
Johnny McElearney '12
Ali deRosas '13
Justine Martignetti '12
Lydia Regan '13
Chris Dello Russo '12
Nate Clement '13
Bianca Nargi '12
Grant Martignetti '12
Breanna Hughes '12
Josie Baily-Zona '12?
– Submitted by Dan Costello