Royall House to Host Colonial Life Program Jan. 15th
|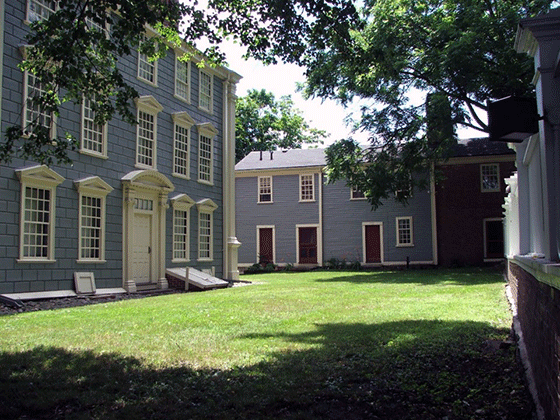 For Adam's Sake: On Wednesday, January 15, 2014, at 7:30 p.m., historian Allegra di Bonaventura will give an illustrated talk based on her book, "For Adam's Sake: A Family Saga in Colonial New England."
Joshua Hempstead was a well-respected farmer and tradesman in New London, Connecticut. As his remarkable diary — kept from 1711 until 1758 — reveals, he was also a slaveholder who held Adam Jackson in bondage for more than thirty years.
In this engrossing narrative of family life and the slave experience in the colonial North, Allegra di Bonaventura describes the complexity of this relationship between slaveholder and enslaved, and traces the intertwining stories of two families until the eve of the Revolution. The lines between slavery and freedom were blurred as colonial New England families across the social
spectrum fought to survive. In this enlightening study, a new portrait of the era emerges.
Allegra di Bonaventura is an assistant dean at the Yale Graduate School of Arts and Sciences in New Haven, Connecticut. Her dissertation was awarded the George Washington Egleston Prize.
Both events will be held at the Royall House and Slave Quarters at 15 George Street, Medford, and is free to Royall House and Slave Quarters members. General admission is $5. Doors open at 6:30 p.m. for the museum shop and exhibits. On-street parking is available, and the museum is located on the 96 and 101 MBTA bus routes. Copies of the featured books will be available for purchase and signing at the event; please note that the museum accepts cash or checks. Please email director@RoyallHouse.org for more information or visit RoyallHouse.org.
About the museum: In the eighteenth century, the Royall House and Slave Quarters was home to the largest slaveholding family in Massachusetts and the enslaved Africans who made their lavish way of life possible. Architecture, furnishings, and archaeological artifacts bear witness to the intertwined stories of wealth and bondage, set against the backdrop of America's quest for
independence. The Slave Quarters is the only remaining such structure in the northern United States, and the Royall House is among the finest colonial-era buildings in New England
– Submitted by Tom Lincoln, Royall House Director