Tufts University Art Gallery Announces Upcoming Exhibitions
|
Tanja Softic – Migrant Universe
January 30 to April 27, 2014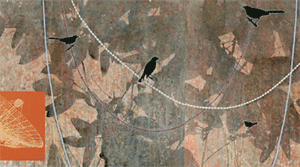 The Tufts University Art Gallery at the Shirley and Alex Aidekman Arts Center is pleased to present Tanja Softic – Migrant Universe. The exhibition will open with a reception on January 30, 2014 and will be on view until April 27, 2014.
The Migrant Universe series acts as a visual poem about identity and the worldview of an immigrant. Tanja Softic's prints, drawings and paintings combine images of natural and man-made structures with drawings based on appropriated visual material: medical and botanical illustrations, maps and charts, manuscript illuminations and comic art. Her work addresses concepts of cultural hybridity, chaos and memory.
Softic says, "The visual vocabulary of the Migrant Universe drawings suggests a displaced existence: fragmented memories, adaptation, revival, and transformation. Because I do not live and work within the comfort or boundaries of the culture in which I first learned to observe, interpret and engage the world, I have the arguable privilege of having lived more than one life." Softic is a professor of art and chair of the Department of Art and Art History at the University of Richmond. Her work is included in numerous collections in the United States and abroad.
This exhibition is on view concurrently with the related exhibition, Seeing Glacial Time: Climate Change in the Arctic. Tanja Softic: Migrant Universe was organized by the Halsey Institute of Contemporary Art, College of Charleston School of the Arts, South Carolina.
Seeing Glacial Time: Climate Change in the Arctic
January 30 to May 18, 2014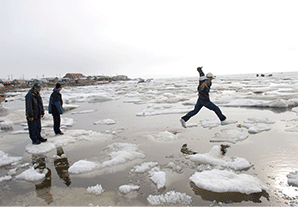 The Tufts University Art Gallery at the Shirley and Alex Aidekman Arts Center proudly presents Seeing Glacial Time: Climate Change in the Arctic on view from January 30 through May 18, 2014.
Seeing Glacial Time examines how eight contemporary artists employ the "real time" of photography to visualize the largely imperceptible, gradual changes in "glacial time" from the bellwether Arctic region. Most of these artists have gone to extreme lengths—and distances—to capture and create their imagery. Some utilize scientific and appropriated photography as source material, while others depart from documentary traditions to
create expressive images suggestive of a melancholic Sublime.
This timely exhibition of paintings, photographs and a video installation introduces Boston audiences to artists who have either not been seen before in the area or have created new work for this occasion. This exhibition is organized by the Tufts University Art Gallery and curated by Dr. Amy Ingrid Schlegel, director of galleries and collections at Tufts.
Participating artists include Subhankar Banerjee, Olaf Otto Becker, Resa Blatman, Diane Burko, Caleb Cain Marcus, Gilles Mingasson (work pictured at left), Joan Perlman, and Camille Seaman.
– Information and photos from Tufts University Art Gallery