Medford Man, Daughter Release Album for Kids with Cancer; Grammy Nomination Follows
|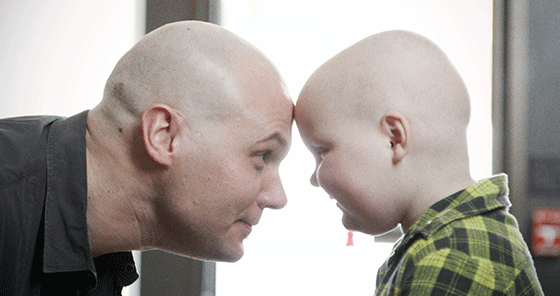 A musical work of love created by Medford's Alastair Moock to help lift the spirits of his sick daughter has received a Grammy nomination for Best Children's Album of the Year.
Moock's posted a reaction to the news on December 6 to his Twitter account:
"Wow. Um. I was just nominated for a Grammy!"
"The Singing Our Way Through" project was created by Moock in July 2012 when one of his twin daughters (then five) was diagnosed with ALL (acute lymphoblastic leukemia).
"It felt like we were drowning," said Moock. "For the first week or so, my wife and I walked around the hospital in a trance. Then I went home and got my guitar."
Over the course of the next hospital-bound month, Moock and his daughter, Clio, sang and wrote songs
together in her room. "It was amazing how her mood brightened in those moments. The effect was
tangible."
Recognizing he had something special, Moock raised enough money to record an album. He partnered with renowned musicians and children, and "Singing Our Way Through: Songs for the World's Bravest Kids," was released in July 2013.
Moock's twins attend the Columbus Elementary School. They performed with him in a special fundraising concert in the fall that also included the album band and The Jimmy Fund Chorus.
The Grammy Awards will take place on Sunday, January 26 and will be broadcast live on CBS. On January 25 all nominees for Best Children's Album will perform in a special concert in Santa Monica, CA.
– The photo and some of the information came from www.singingourwaythrough.com