Unique, Tasty Foods & Treats Discovered at Medford Winter Farmers Market
|
Ever tried the "sweet-hot" gluten-free, vegan dipping sauce called Doos P.K.? No? How about the subtly exotic Ras el Hanout spice blends? Still no? Maybe you've become a fan of the big round crisp vegetable called kohlrabi? If you are still shaking your head—or if you're nodding vigorously and want to know more—then let us share Medford's greatest new secret with you: All these and many more delicious foods from local producers can be discovered right in Medford Square, every Thursday afternoon! The Winter Farmers Market takes place every Thursday from 3-7 pm in the Hyatt Place Hotel in Medford Square, just across the street from the summer market, in the parking garage of the Hyatt.
More than a dozen vendors attend the market during the winter season, offering:
– Winter root vegetables, bread, flour, grass-fed beef, pastured pork, pastured chicken, and grass-fed cheeses (feta, camembert, brie, cottage, cheddar and more) from Brookford Farm
– Pastured beef, pork, and eggs from Stillman's at the Turkey Farm
– Lettuce, spinach, cut herbs, grape tomatoes, winter squashes, potatoes, onions, carrots, beets, turnips, and eggs from Oakdale Farms
– Smoked salmon and dips from The Amazing Smokehouse
– Asiago, fromage blanc, eggs, beef, and more from Foxboro Cheese Co.
– Dried herbs, herbal teas, and gourmet salts and spice rubs from Soluna Garden Farm
– Sweet and spicy veggie dip from Doos P. K. Treats
– Wines brewed from Massachusetts grapes from Zoll Cellars and Coastal Vineyards (alternate weeks)
– Handcrafted sweets from TRILLfoods and Heilselman Confections (alternate weeks)
Here's a little peek at just one of the Winter Market vendors. "Doos P.K." is the phonetic spelling for "deux pique," Creole for "sweet-hot." Doos P.K.'s creator is Jose Malary, a recent cancer survivor who is passionate about living healthfully. The Boston Globe's story on Doos P.K. says that Malary's "mother, a nurse, cooked him greens for their nutritional value, but Malary hated their taste. He took his complaints to his grandmother, who taught him about spices, and once his cancer was in remission he experimented with antioxidant-rich foods until he had something that even his kids loved. "My cancer was a blessing in disguise," he says. 'Look what I created out of it!' "
A tasty blend of fruits, vegetables, and seasonings, you can buy Doos P.K. mild, not too spicy, or hot. Try it as a dip, a condiment, in savory or sweet smoothies, as pizza sauce (without the tomato base), or mixed with hummus, cream cheese or mayonnaise for a delicious sandwich spread. Doos P.K. is taking off and Malary has plans to market it to stores in the near future!
Come sample some Doos P.K. as well as bushels full of New England grown winter veggies, locally raised and pastured meats and cheeses, and all the other locally produced products you can find only at our Farmers Market!
We offer lots of free parking in back of Hyatt Place, as well as a very safe place for children while you shop, as no vehicles are allowed to use the space during Market hours.
For more information about the Medford Winter Farmers market please visit www.medfordfarmersmarket.org or find us on Facebook.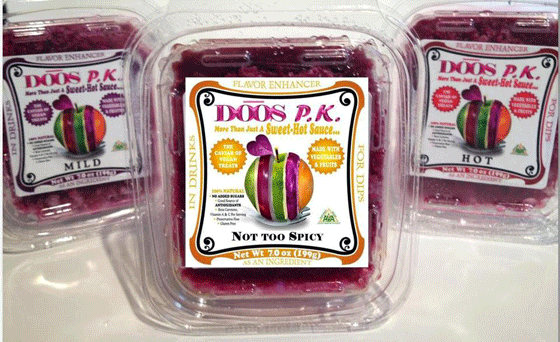 Doos P.K. dip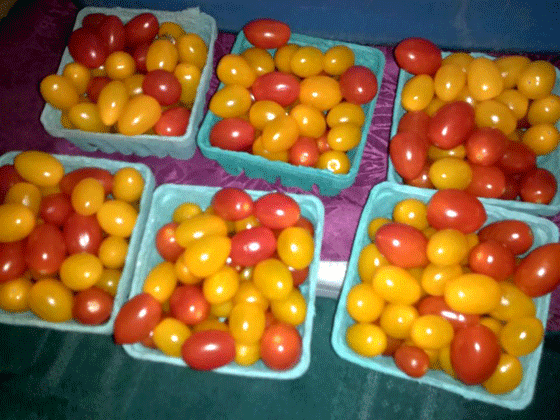 Grape tomatoes from Oakdale Farm in southern Massachusetts
– Submitted by Susan Altman, Medford Farmers Market