Tufts Employees Give Grants to 9 Medford Groups
|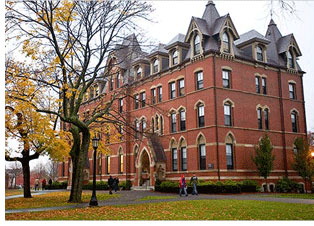 The Tufts Neighborhood Service Fund (TNSF) committee recently awarded grants to nine organizations in Medford. TNSF collects donations from university employees throughout the year and then awards grants to community-based, charitable organizations that serve Tufts' host communities (Somerville, Medford, Grafton and Boston's Chinatown) and actively engage Tufts volunteers in their work.
A committee of Tufts administrators, faculty and staff meets annually to review proposals and select grant recipients. In 2013 there was a total of $19,300 available to distribute through TNSF. The committee received 69 proposals representing more than $105,000 in requests and selected 29 programs and projects for awards. Members of the TNSF committee base their decisions on a desire to address the most pressing needs in the communities and to encourage expanded involvement of Tufts volunteers.
The Medford grant recipients for 2013 are:
– Boys and Girls Clubs of Middlesex County — $300 to purchase t-shirts for the Medford Clubhouse's Running Club
– Coalition for Arts, Culture, and a Healthy Economy (CACHE) — $300 for assistance with production costs of the annual Circle the Square, a festival bringing free music, arts and activities to Medford Square
– Columbus Elementary School — $400 to support the school's annual Science Night
– Community Cupboard Food Pantry of the Unitarian Universalist Church — $2,000 for continued support for local families that use the pantry
– Heading Home — $500 to support the Medford Family Life Education Center's educational programs
– Medford Council on Aging — $400 to purchase books for book club participants who cannot afford them
– Medford Family Resource Coalition — $500 for costs associated with their Outreach to Medford Families Project
– Mystic Valley Elder Services — $1,000 to support the Senior Nutrition Outreach Program's food pantry
– Outside the Lines Studio — $250 for art supplies for clients.
– Information from Tufts University