'Fuzzy' Cats Looking for a Home
|
Mariah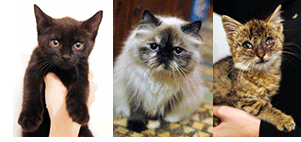 Hey there…my published name is Mariah but I have been called "Kitty" more so I kinda answer to that name. I am looking for a Persian-savvy-only adopter cause I require daily attention to some of my breed's special needs. I am a 3 year old pure-bred Persian with a type of coat pattern called "tortie-point" which I think is quite rare (so my foster mom has been told.) I have a beautiful, full coat of fur that needs attention daily so I remain matte-free and I need my face and eyes washed daily with a special solution to prevent my tears from staining my face. (No, I do not cry.) I am super sweet and docile, and get along with other cats as long as they are not domineering. (Another cat with a strong personality might tend to bully me.) I also am a talker and I will come when called.
If you and your home fits the above criteria and, you are looking for a gorgeous beauty like me, please contact Kitty Connection to make an appointment to meet me at my foster mom's home. My adoption donation is $250.00 and I have been micro-chipped.
Hei
I am Hei, a 7-8 week old little girl who is looking for a home. I am not ready to be adopted yet but Kitty Connection is seeking potential adopters. You can fill out a pre-adoption form and a KC volunteer will get back to you. I still need all of my shots and will be spayed soon; then, I will be ready for my new home.
Misteso
My name is Misteso. Wednesday, January 22 was the luckiest day of my short life. Somehow, I ended up outside (in the 15 degree weather), scared and cold. I went under a car and cried and cried. A young man was walking by and heard me crying; he took me inside and called a Kitty Connection volunteer. My eye was pasted shut and I was shivering. She rushed me to the vet where they prescribed medicine for eyes and the cold that I caught. I weigh 1.7 lbs so the vet guessed that I am 7-8 weeks old. I am just a baby! How did this happen? Some of the fur on my nose is burnt from frostbite, too. I am very sweet and loving, and I talk. I tell my foster mom how happy I am to be inside and have her love and care. My eye is slowly getting better but, it will be a while before I can be adopted out. I need to get healthy first, and then get fully vetted.
KC is taking donations for my care and applications for anyone interested in adopting me. Please fill out a pre-adoption form and a KC volunteer will get back to you.
About Kitty Connection
Kitty Connection is a no-kill, all volunteer rescue based in Medford and dedicated to helping animals in need. KC provides foster homes for them until they are adopted into loving, forever homes.
Cats/dogs are sometimes temporarily staying at foster homes away from the area.
For more information or to make an appointment to see the animals, call 781-393-9995 or email kc@kittyconnection.net.
For more animals or to see videos, check out http://www.KittyConnection.net!
– Information and photos from Kitty Connection