DA Ryan in Medford for Domestic Violence Awareness Training
|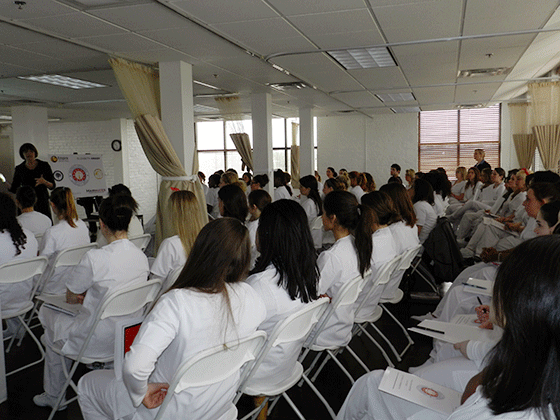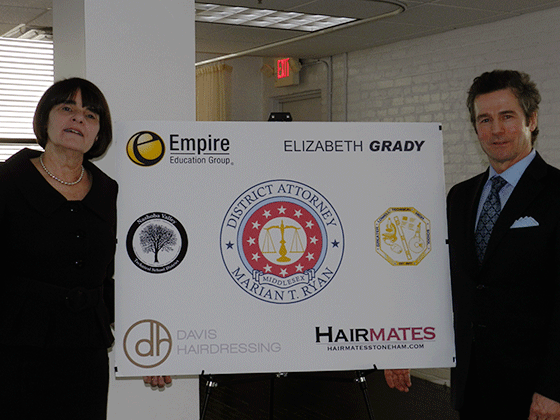 Middlesex District Attorney Marian Ryan and Elizabeth Grady President John Walsh provided training today to students at The Elizabeth Grady School of Esthetics and Massage Therapy in Medford to identify signs of domestic violence and to learn about resources available for victims. More than 100 students and staff from the School were in attendance.
Participants in Cut It Out Middlesex learn how to spot signs of domestic violence and how to safely refer clients to local community service providers. The training brings participants together with representatives from community-based domestic violence programs and domestic violence officers from local police departments. Participating in the Elizabeth Grady training program were Jessica Brayden, Executive Director at Respond, and Deb Fallon from Portal to Hope.
"We are so pleased to have partnered with Elizabeth Grady in bringing this important program to the students at The School of Esthetics and Massage Therapy," District Attorney Ryan said. "Salon professionals are in a unique position to assist domestic violence victims who are their clients because of the intimate, and often long-term, relationship many of them develop. Educated with information about what signs might indicate abuse and what local assistance is available to clients in need, estheticians, makeup artists and massage therapists, like hair stylists, may provide a crucial bridge linking victims with resources and trained advocates who can help."
"Statistics show that an estimated 1 in 3 women will be victims of domestic violence at some point in their lifetime," said Elizabeth Grady President John Walsh. "Every year, we at Elizabeth Grady are fortunate to provide services to more than 300,000 clients, and if only a fraction of them are victims, that is too many. Our dedicated and talented staff care about the health and well-being of our clients and now they will have the tools to help those who need it. We are thankful to District Attorney Ryan and her staff for their collaboration and for the important training they have provided."
District Attorney Ryan developed the national domestic violence prevention effort Cut It Out in towns across Middlesex County through the creation of public-private partnerships. Starting in 2009, Cut It Out Middlesex was first initiated with school-based training programs at local vocational and technical high schools to create awareness around the issue of domestic violence at the earliest stage of students' professional development. Working in partnership with the national beauty school chain, Empire Beauty School, the program was taught at Empire's Middlesex campuses located in Lowell, Framingham and Malden. The Empire training, led by District Attorney Ryan, was so successful it has been incorporated into the school's curriculum. Starting this past fall, District Attorney Ryan has led trainings in private salons throughout the county, including in Newton and Stoneham, with additional salons hosting the program this spring. The Elizabeth Grady training marks the first time that the program has been expanded to include student-estheticians, makeup artists and massage therapists.
Cut It Out: Salons Against Domestic Abuse was created and first implemented in 2002 in Alabama and is a program of the Professional Beauty Association Foundation. Cut It Out mobilizes salon professionals and others to fight the epidemic of domestic violence in communities across the country by building awareness and training salon professionals to recognize warning signs and safely refer clients, friends, family and co-workers to local resources. The Middlesex County District Attorney's Office is the only public agency in the state to have developed and implemented a local model of this national program.
Middlesex County is the largest county in Massachusetts and one of the largest counties in the country with 54 cities and towns and 26 colleges in urban, suburban, and rural areas, comprising over one quarter of the population of Massachusetts. The Middlesex District Attorney's Office has offices throughout the county, including in Ayer, Cambridge, Concord, Framingham, Lowell, Malden, Marlborough, Newton, Somerville, Waltham and Woburn.
For more information on the program or to request training for your salon or business, contact Director of Community Partnerships Shawn MacMaster at 781-897-8300.
– Information and photos from Middlesex DA Ryan's office