Lanzilli Earns 300th Career Point
|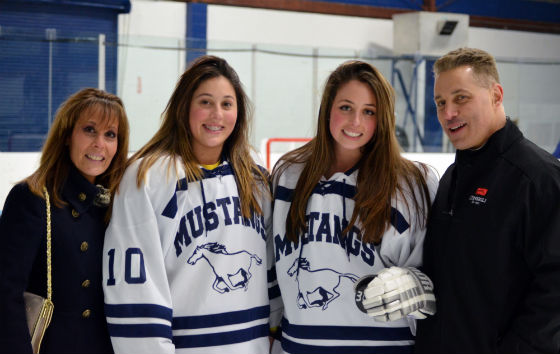 Medford High School senior Brittani Lanzilli became just the third player in Massachusetts girls high school hockey history to earn 300 career points.
Lanzilli nabbed her 300th point on home ice in a 6-2 victory over St. Joseph's Prep/Mt. Alvernia on Wednesday, according to assistant Coach Josh Glionna.
The accomplishment was achieved when Lanzilli scored her third goal of the game on a wrist shot top corner, said Coach Glionna. Brittani's sister, Kayli, a junior forward, assisted on the goal along with junior defenseman Marykate Cullinane.
For her career, Lanzilli has 179 goals and 121 assists. She notched her 100th career point, a milestone for any high school hockey player, while she was just a freshman.
Lanzilli is pictured above (second from right) with her parents Donna and Ken and sister Kayli. Photo by Judy Baruffaldi.
– InsideMedford.com