Mystic Art Gallery Presents the Art of Illustrations
|
Illustration is defined as the act or process of illuminating. They give a visual picture of printed word, drawing us in to a new world or new perspective. As Norman Rockwell demonstrated for so many years, illustrations can entertain us, stir our emotions in many directions, and broaden our world view. Whether a simple line drawing or complex scene, they can tell stories in their own right.
In February, the Mystic Art Galley presents three different visions of illustrations by Cambia Davis, Sydney Smith and Ben Warren. They will show work which has been used to illustrate books or flyers.
Sydney recently illustrated a children's book, Eldon, The Spectacular Elf and will show other drawings She currently lives in Wakefield, MA where she retired after 18 years teaching in The Los Angeles School District as an elementary and art teacher. She relocated to Mass to be near family. A graduate of The KansasCity Art Institute with a B.F.A. In Painting and of The University of Iowa with a M.F.A. In Printmaking. She recently illustrated a children's chapter book, Eldon the Spectacular Elf for the holiday season and is currently working on two more books of Eldon's adventures. Enjoying all forms of creative expression, she has kept in touch with her whimsical side and love of drawing. She has also illustrated in literary magazines poems and a
short story.
Ben Warren is a multifaceted artist creating out of Medford, MA. His illustration work takes on subjects ranging from the serious to the silly. While studying at the Massachusetts College of Liberal Arts Ben was a cartoonist for the school newspaper, The Beacon. His final works at MCLA argued that cartoons can too be serious. Working with kindergarteners since has inspired the artist to illustrate a children's alphabet book. Collage making is his preferred form of expression allowing for free flow of ideas and thoughts from pen to paper. Featured here in the Mystic Art Gallery is some of his illustrated collages, the beginnings of a comic about the misfortunes of a toaster, and his alphabet book. Ben creates an illustrated collage without sketching prior and rotates the page creating image after image intertwined, overlapped and colored in with marker or colored pencil contrasting the other styles.
Cambia recently drew illustrations for Medford's Snow Shoveling Regulations and will show etchings that illustrate an unpublished children's story.
Cambia, an accomplished painter, began drawing hand-colored etchings of rabbits when she lived in New York City in the 1970's. The rabbits have followed her to Medford where she painted them on a switchbox collaboration with Susan Altman. They've also made their way onto a flyer about Medford's Snow Shoveling regulations. And this exhibit includes some earlier etchings as well as recent drawings of rabbits shoveling snow and being active for their health.
The opening reception is Friday, February 7th from 6-9. The artists will talk about their work beginning at 7 pm.
The Mystic Art Gallery is located at 14 Main Street, behind Citizen's Bank.
For more information visit http://www.mysticartgallery.org/.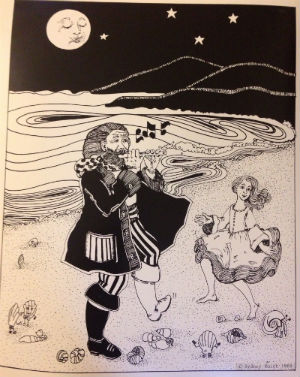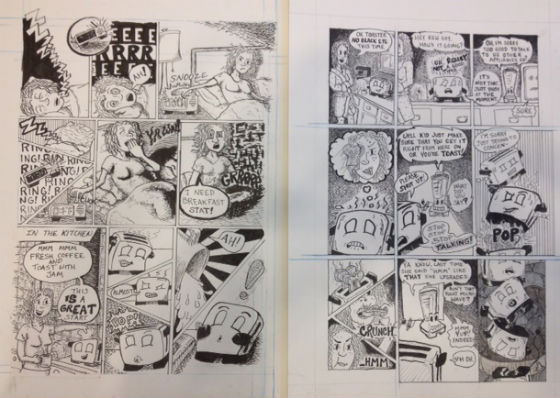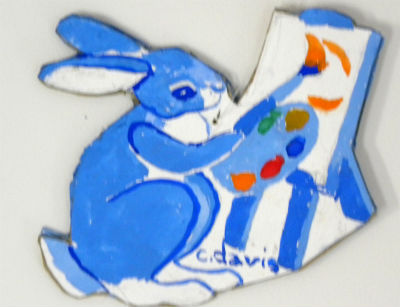 – Submitted by Mike Oliver. Art work by Sydney Smith, Ben Warren, and Cambia Davis