Former Malden Player Suits up for Seattle in Super Bowl
|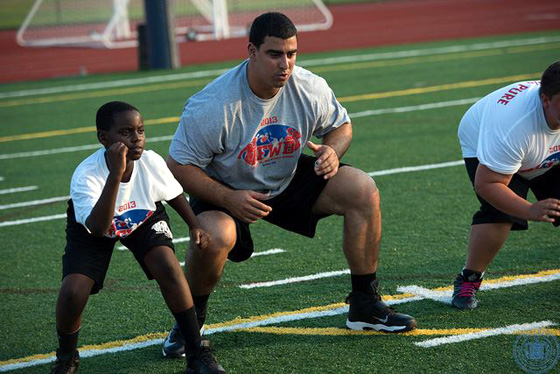 Breno Giacomini, a 2004 graduate of Malden High School and former Golden Tornado football and basketball player, will play in the Super Bowl for Pete Carroll and the Seattle Seahawks. The 6'7″, 318-pound Giacomini, #68, is a right tackle. According to a Boston Globe profile, Giacomini still has close ties to his former Malden program, holding football camps and donating equipment. He is pictured above at a camp in Malden over the summer.
Giacomini, who in high school briefly gave up football to pursue basketball, has been with Seattle since 2010. As for his last game as a Malden player, Giacomini had four sacks as a defensive end against arch rival Medford in the 2003 Thanksgiving game, according to Malden Evening News/Medford Daily Mercury editor Steve Freker.
Photo courtesy AFWB.
– InsideMedford.com