Carr Makes Dean's List at Univ. of Arizona
|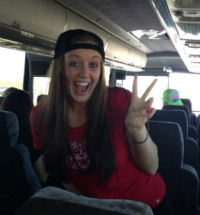 Medford resident Hayley Lauren Carr is making the grade far from the Greater Boston area.
Carr, a pre-law student, has made the Dean's list at the University of Arizona.
"Not many kids choose to go so far, but Hayley wanted to broaden her horizons, prove to herself she could do it!," said mother Beth. "At first we were very hesitant, but…finally decided to support her dream. If not now, when would she get the opportunity to get a great education in a beautiful part of the country and travel around that part of the US."
Carr, pictured at right in a U of A Wildcat shirt, wanted to go away for school and experience a different part of the country. She is working part-time while studying for the LSAT's. Carr is currently in her sophomore year.
Courtesy photo.
– InsideMedford.com