West Medford Open Studios Seeking Artists, Deadline Feb. 4th
|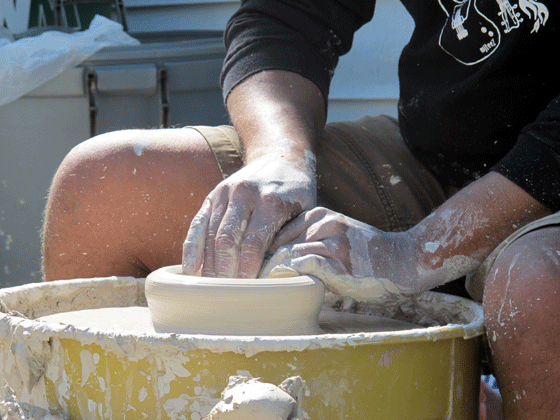 Earl Howard works on a pottery wheel during last year's West Medford Open Studios.
The West Medford Open Studios committee is looking for visual artists, performing artists and writers to participate in the WMOS art show that will take place on May 10-11, 2014. WMOS is a free celebration of the arts that features visual work as well as live performances by local writers and musicians. The committee is seeking local and non-local artists to submit applications by the February 4, 2014 deadline. There is also an early bird deadline with a reduced entry fee for registrations by January 15. Applications and online registration is available on the website at www.wmos.org.
Using homes, artist studios, and community spaces throughout West Medford, WMOS provides artists with a venue to show and sell their work in the community. Visitors are provided with maps to all the sites and events of the weekend. The maps will be available on the website and from several local businesses.
The West Medford Open Studios event has been expanding every year since the first year in 2000 that was organized by a small group of Medford artists. In the years since, WMOS has grown into a larger celebration of the arts, attracting hundreds of visitors from Medford and surrounding communities. Last year there were over 70 participants including visual artists, writers, student artists, and musicians.
West Medford Open Studios is a non-profit organization and is supported by the artists that are in involved in this program, a grant from the Medford Arts Council, friends of WMOS, and local businesses.
For more information about West Medford Open Studios visit www.wmos.org, or contact Tanya Howard at tanyamjt@comcast.net.
– Submitted by Tanya Howard