Snow Emergency in Medford Wednesday- Updated
|
Update- Medford's Snow Emergency Lifted as of 5PM Thursday
Update- Medford Public Schools Closed Wednesday
Update- City Hall Closed, All Public Meetings Postponed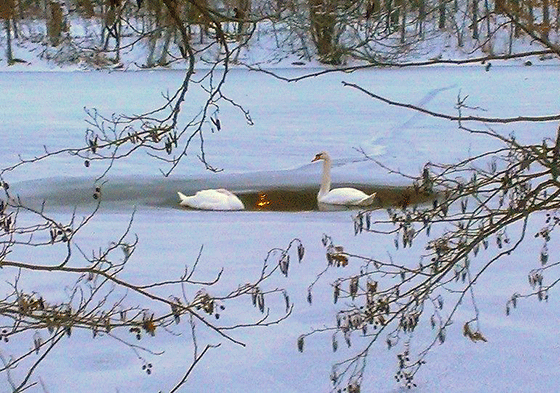 The latest expected snow storm has led to a snow emergency declaration in Medford as of 7AM Wednesday until further notice. That means parking on the odd side only on side streets and no parking at all on designated main arteries (see the city website for more details). The National Weather Service has declared a Winter Storm Warning for Medford and the area from midnight until 6PM Wednesday. Medford could see seven to eleven inches of snow within the next twenty-four hours.
Schools are closed in Medford and many other communities on Wednesday. In addition, Medford City Hall is closed and the following public meetings have been postponed: School Committee, McNally Park Neighborhood Meeting, Green Line Extension, and Conservation Commission (new dates TBA).
Pictured above: swans on the Mystic River following the last snow storm. Photo by Maria Daniels.
– InsideMedford.com