Medford Arts Council Awards $34K for Arts & Culture Projects
|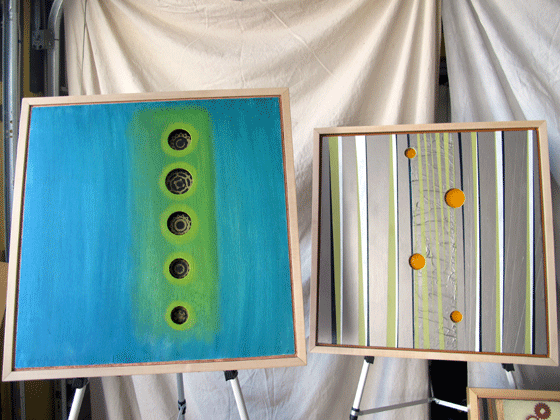 Paintings by Jason DeWaard at last year's West Medford Open Studios. The annual event is one of many receiving financial support from the Medford Arts Council.
The Medford Arts Council announces its grant recipients for the 2014 calendar year, distributing $34,000 in funding.
The 48 funded projects include:
– A city-wide Children's Art Showcase at the Meadow Glen Mall in March
– West Medford Open Studios in May
– The Holiday Singers' Community Chorus
– Performances at Circle the Square in Medford Square during the summer
– Projects at Medford's historic Royall House and Slave Quarters and The Brooks Estate
– CACHE's annual Arts Across Medford Festival in October
– A collaborative sculptural installation at MacDonald Park by artist Carolyn Lewenberg
– and dozens more arts and culture programs serving seniors, school children, and the general public through the calendar year
The Arts Council's 2014 allocation from the Massachusetts Cultural Council totaled $17,660. An additional $13,000 came from a first-time allocation from the city budget by Mayor Michael McGlynn, following an October 2013 vote by the Medford City Council to fund arts and culture in the city. Medford Arts Council members and the community increased the total granting amount through fundraising efforts, including local donations from individuals and businesses.
"These grants help build a better quality of life in our community," said Mayor McGlynn.  "Programs funded by the Medford Arts Council benefit our children, seniors, the general public and many local organizations.  Arts and culture are sources of joy, reflection and insight in our daily lives."
Visit www.medfordartscouncil.org for more information.
A complete list of 2014 grant recipients follows.
Tsongas Industrial History Center, Farm to Factory Presentation
Columbus Elementary School, January 2014, $140
Third grade Lexington Symphony field trip: Orchestrating Kids Through Classics
Brooks Elementary School, January 2014, $336
Mirror Mirror Theater Project at the Medford Boys and Girls Club
Jennifer Lewis, January-March 2014, $650
ASK for Art at Medford High School
Outside the Lines Studio, February 3-April 4, 2014, $1,700
Community Gospel Concert 2014 at Cohen Auditorium, Tufts University
Stacie Clayton, February 24, 2014, $500
Black History Month Cultural Expo
West Medford Community Center, Inc., Four Fridays in February 2014, $800
Brooks Estate Historic Artwork Conservation
Medford-Brooks Estate Land Trust, Inc. (M-BELT), February 2014, $400
Two School Vacation Performances
Medford Public Library, February and April 2014, $500
Kids Open Mic
Laura Brereton, Feb., May, and Nov. 2014, $800
Concert: Great Day for the Irish at the Medford Senior Center
Ruth Harcovitz, March 13, 2014, $350
Hands on History: The Revolutionary War, Brooks Elementary School
Denis Cormier, March 14, 2014, $260
Medford Children's Art Showcase at the Meadow Glen Mall, $700
Field trip to the Boston Museum of Fine Arts
Andrews Middle School, March 2014, $228
West African Folktales for Second Graders at Brooks, Columbus, McGlynn and Roberts Elementary Schools
Sharon Kennedy, March-April 2014, $1,000
Collaborative Sculpture Installation at McDonald Park
Carol Lewenberg, April-May 2014, $1,650
Senior Citizen Road Shows
Sandy Strate, April-June 2014, $425
West Medford Open Studios XV
May 10-11, 2014, $1,500
Field trip to the DeCordova Sculpture Park and Museum
Andrews Middle School, May 2014, $240
Introduction to Playwriting at the Medford Public Library
William E. Doncaster, Spring 2014, $700
Student Art Inspired by the River-Life Mural
Andrews Middle School/Peter Gallagher, Spring 2014, $1,150
World Percussion Program at the McGlynn Elementary School
Shelley Gross/Medford Public Schools, Spring 2014, $350
One Minute's Freedom: The Story of Mum Bett
Royall House and Slave Quarters, $500
Local History Curriculum Support Materials
Medford Historical Society, Spring 2014, $850
Field trip to the New England Aquarium
Andrews Middle School, Spring 2014, $571
Life Cycle of Raptors at Brooks, Columbus, McGlynn, and Roberts Afterschool
Shelley Gross/Medford Public Schools, Spring 2014, $700
Four Summer Family Performances
Medford Public Library, June-August 2014, $900
Concert at the Medford Public Library
Leslie Havens and the Solstice Sackbuts, June 19, 2014, $300
All The Presidents' Women at the Medford Senior Center
Delvena Theatre Company, June 2014, $350
Circle the Square in Medford Square
CACHE – The Coalition for Arts, Culture and a Healthy Economy in Medford, June – September 2014, $1,800
Industrial Eden: The Legacy of Haywardville at the Medford Public Library
Ryan D. Hayward and The Preservation Collaborative, July 9 and 23, 2014, $450
Family Drum Fun at Wright's Pond
Shelley Gross/Medford Public Schools, July 2014, $400
Brooks Community Garden Nights
Carolyn and Geoff Montello, Summer 2014, $500
Dancing Through The Decades with Dance Caliente at the Medford Senior Center
Eileen Herman-Haase, Fall 2014, $600
Art + Experience Senior Art Classes and Art Show
Mystic Valley Elder Services, September 2014, $700
Arts Across Medford Month-long Festival
CACHE – The Coalition for Arts, Culture and a Healthy Economy in Medford, October 2014, $1,200
Letters to Medford 1855 at the Medford Historical Society
Two Roads Performance Projects and Hannah Verlin, October 2014, $800
Roots Music Collective
Columbus Elementary School, Week of Nov. 17, 2014, $600
Educational Outreach Program
Handel and Haydn Society, School year 2013-14, $625
Holiday Singers: A Community Chorus, Medford Senior Center
Janet Casey, through 2014, $1,000
Dance It Out Dance and Performance Project
Medford Boys and Girls Club, through 2014, $2,300
Making Art Together: Children and Their Families
Medford Arts Center, Inc., through 2014, $1,000
MUSIC Dance.edu at the Medford Public Library
Rondae Drafts, Date TBD, $300
Bestsellers Cafe Sing Alongs
Matthew Heaton, Dates TBD, $300
Musical Programs at the Medford Rehabilitation & Nursing Center and the Glenridge Nursing Center
Denise Doucette, Dates TBD, $600
Louisa's Girls at the Medford Public Library
Delvena Theatre Company, Date TBD, $375
Dance Caliente Children's Latin Dance Workshop at the Columbus, McGlynn, and Roberts Elementary Schools
Eileen Herman-Haase, Dates TBD, $600
Live Jazz Music at Bestsellers Cafe and Bookstore
Raleigh Green, Dates TBD, $300
Off The Square Screening Room
Medford Arts Center, Inc., Dates TBD, $1,000
– Information from Maria Daniels