Sen. Jehlen to Run for Re-Election, Faces Opponent
|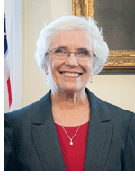 State Senator Pat Jehlen has announced she will seek re-election to the State Senate.
Jehlen, a Democrat from Somerville whose district also includes Medford, is being challenged by Medford resident Robert Cappucci, a Republican, according to a campaign newsletter.
Cappucci made an unsuccessful bid for Medford City Council last fall.
Both Sen. Jehlen and State Representative Sean Garballey (D-Arlington, Medford) have announced their plans to seek another two year term. State Representatives Paul Donato (D-Medford, Malden) and Carl Sciortino (D-Medford, Somerville) have yet to announce their plans.
The state election is taking place in the fall of 2014.
– InsideMedford.com